Once an avid football player, Mr Lim Seh Kong's life changed when he contracted a bone infection in his mid-fifties in 2003.
"Overnight, I had no strength to do anything. I couldn't work, play football or go out with friends."
Mr Lim, who used to work at a chemical company, underwent an operation and spent three and a half months in the hospital. With physiotherapy, he learned to walk again, but "was wobbly and going sideways a lot".
With his health declining over the years, Mr Lim had to stop exercising, and cut down on socialising with his friends.
Fortunately, his wife and family stood by him through the tough times. Together with the assistance from the Silver Generation Office (SGO), the 73-year-old is inspired to stay active and engaged.

Growing Care Needs
Back in 2003, the Lims never thought they would need much help. After his operation, Mr Lim's wife, Mdm Tay Gek Hiang, became his primary caregiver. At the time, as he was still able to walk, his wife was able to care for him on her own. She was also able to babysit their eldest granddaughter, who was two years old then.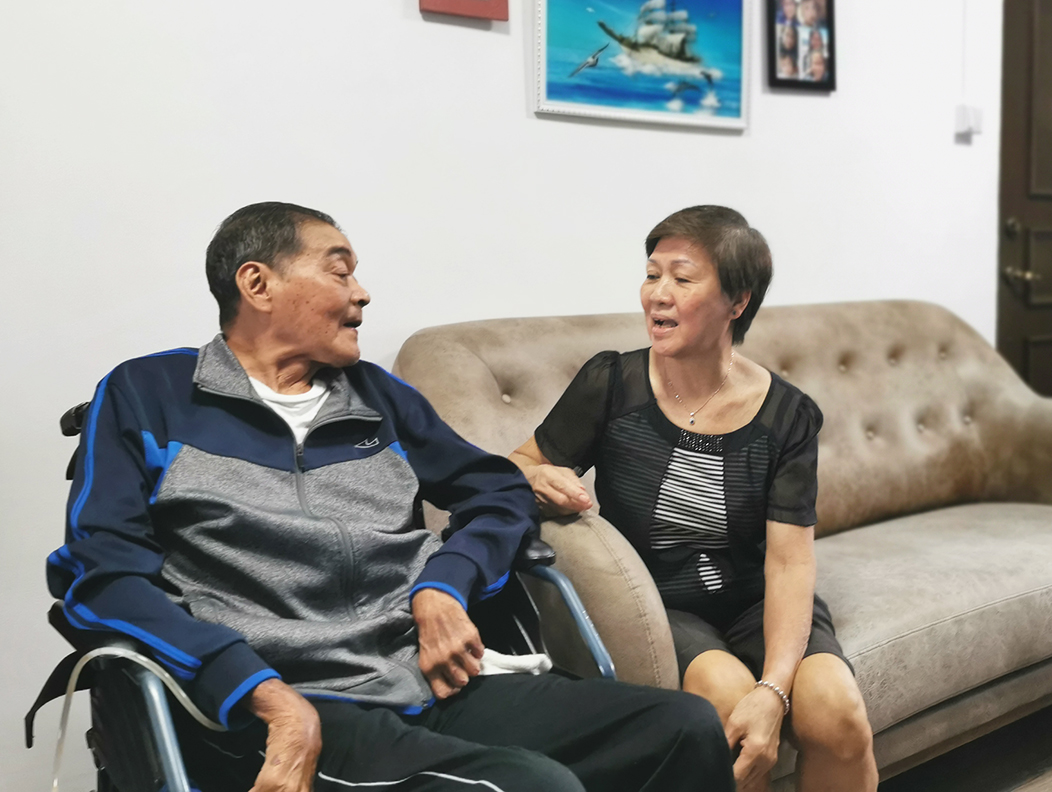 However, Mr Lim's care needs grew as his muscles became weaker through the years. He used to catch up with friends over coffee but eventually cut down on going out. He also had more asthma attacks and was prone to falls at home.
"There was once when I was out buying groceries, (Mr Lim) called to say he had fallen in the toilet. Thank goodness I was only one bus stop away. I rushed back immediately," said Mdm Tay, recalling the 2018 incident.

Increased Care Responsibilities
Mr Lim's condition reached its lowest point after an asthma attack in early 2019. Following the incident, he went from being able to visit the toilet on his own, to needing Mdm Tay's help to even sit up in bed. Mdm Tay also had to support him when he visited the toilet. At her age, she finds it hard on her back when she supports Mr Tay, who is taller and heavier than her.
This time, juggling Mr Lim's care needs and babysitting her youngest granddaughter (who turns three this year) took a toll on Mdm Tay's health mentally and physically. She had backaches and was experiencing signs of burnout.

Managing Increased Care Responsibilities
The couple's 46-year-old daughter, who lives nearby with her own family, grew concerned about her mother's care responsibilities. She hired a Foreign Domestic Worker (FDW) to ease Mdm Tay's caregiver responsibilities. 49-year-old Cabugnason Alma Martinez, joined the family in November 2019.
Alma was a welcome addition. Prior to working for the Lims, she had attended a Basic Nursing Course for Caregiver.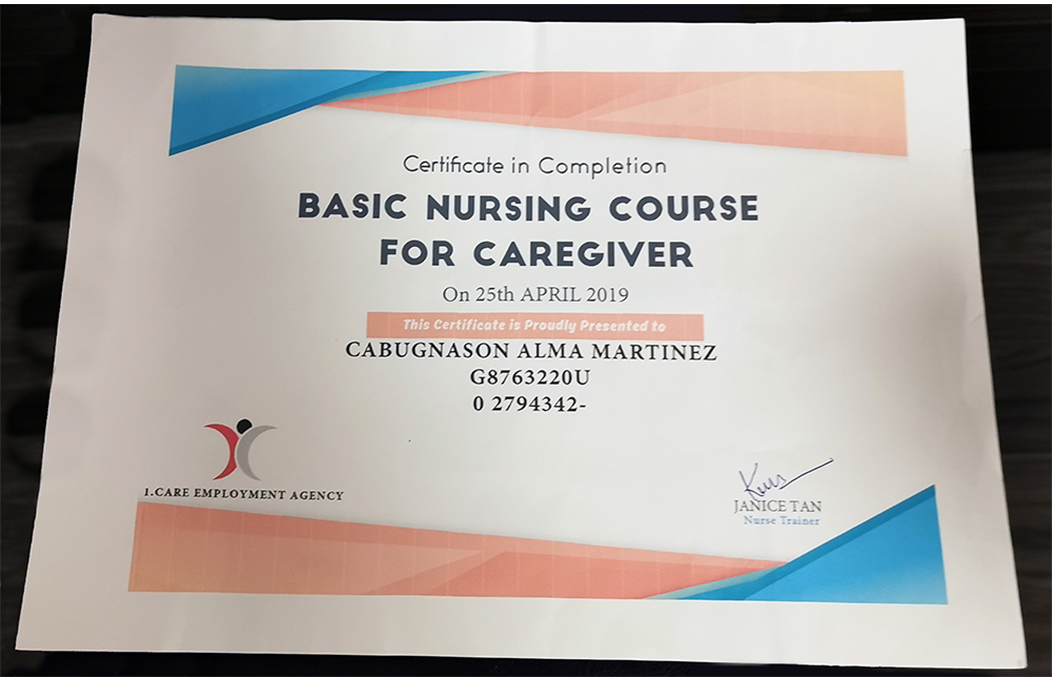 At the course, she learned about basic caregiving skills, which equipped Alma to care for Mr Lim's daily activities. The skills include transferring him from the bed to the wheelchair, bathing him, giving him medication and feeding him. She also takes his blood pressure daily.

Reaching out to the SGO for Help
In 2018, the Lims were visited by the Silver Generation (SG) Ambassadors, Teo Jin Teng and Mohamed Anwar, on their outreach efforts. The SG Ambassadors shared on the relevant government policies, community activities and health services for seniors, and left some brochures behind. When Mr Lim required more support following his early 2019 hospital stay, Mdm Tay recalled the previous visit by the SG Ambassadors and decided to call the SGO hotline for help.
Following Mdm Tay's call, SGO staff, Tan Kang Pick and Ivy Tan, visited the Lims at their home to better understand the family's situation.
"From my chat with Mdm Tay, I found out that Mr Lim's biggest challenge was going to the toilet, even with her help. Also, the three steps outside their home can be dangerous for both of them. Both of them may fall when Mdm Tay helps Mr Lim down the steps," said Kang Pick.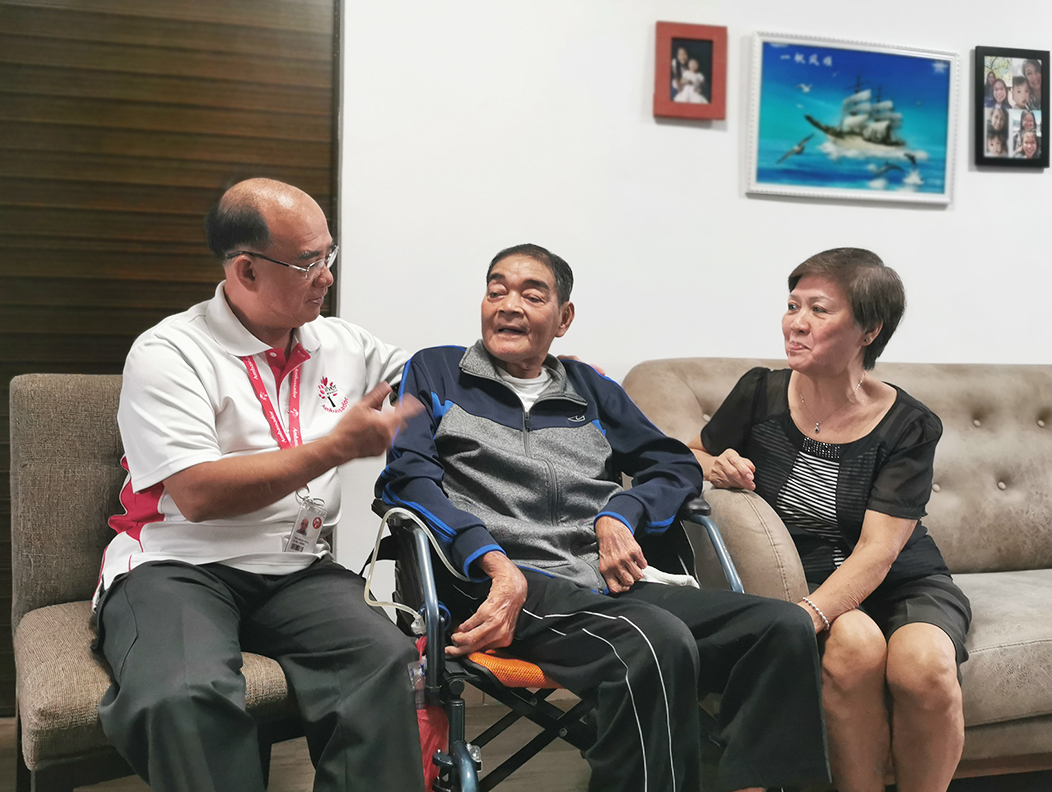 Kang Pick suggested that they apply for an enhanced ramp for their home entrance under the Enhancement for Active Seniors (EASE) programme by the Housing & Development Board (HDB). Installing the ramp facilitates Mr Lim's movements in and out of their flat on his wheelchair.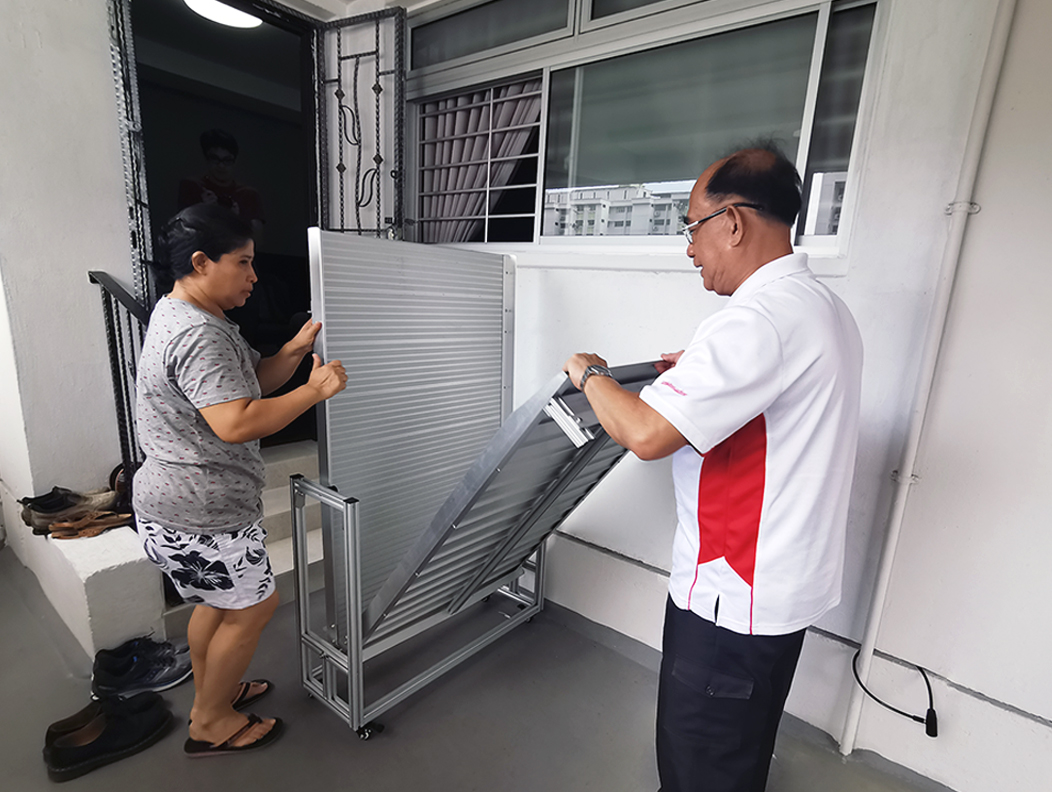 He also helped them apply for a commode under the SMF, which makes it easier for Mr Lim to move from his bed to the toilet. The ramp and commode created a safe home environment for Mr Lim.
Kang Pick also introduced the Lims to the Home Caregiving Grant (HCG) and assisted with the application as well. The monthly $200 HCG payout helps to defray Mr Lim's medical costs and transport expenses.
"Kang Pick was very easy to talk to. After telling him our difficulties, he understood exactly what we needed. There are so many grants and schemes out there that we didn't know, especially the Home Caregiving Grant. We are thankful to have him to advise us. As my husband hasn't been working for 17 years and I am a homemaker, these subsidies helped our expenses a lot!" Mdm Tay said.

Improved Quality of Life
For Mr Lim, the most significant improvement to his daily life since the SMF and EASE programmes is safety. "Before we got the commode, I fell around five to six times when going to the toilet on my own. With the commode, I can now visit the toilet easily with the assistance of my wife or our helper."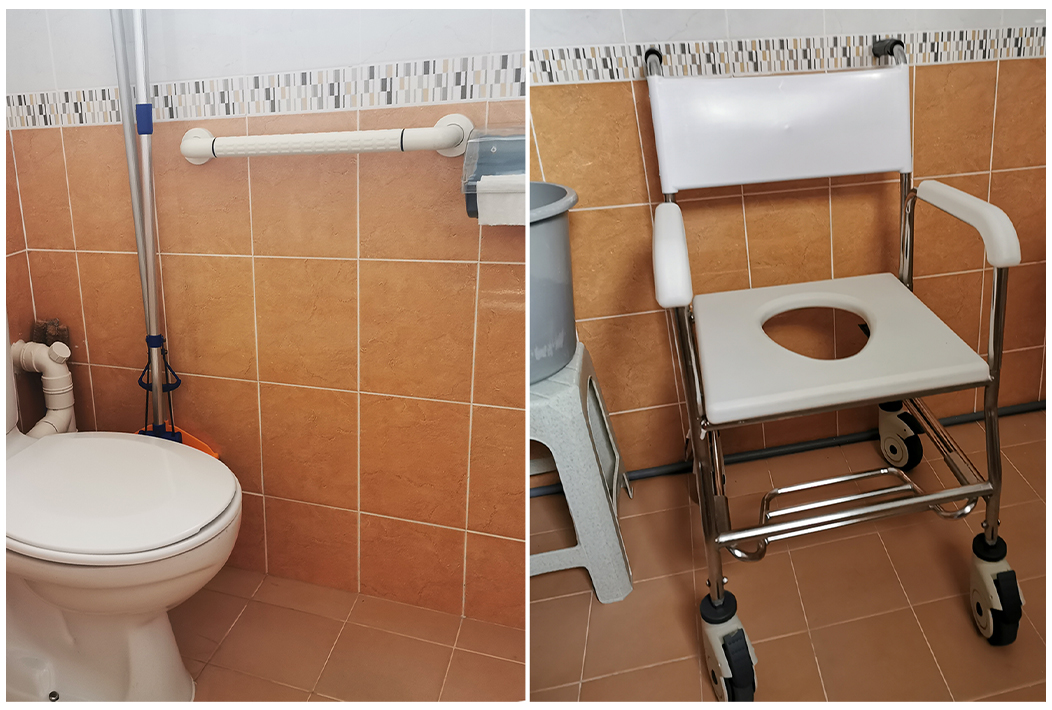 Before the ramp was installed, Mr Lim spent his day catching up with the news on TV and listening to music. These days, he takes daily walks near their HDB flat, accompanied by their helper, to get some fresh air. Occasionally, he would join his family on outings to spend time with his grandchildren. They recently visited the S.E.A. Aquarium in Sentosa.
Knowing that there is a ramp to assist him gives him comfort.
"Most of the time, I will try to walk out the door so that I can exercise my legs. When I feel weak, or when I feel my asthma acting up, the ramp comes in very useful."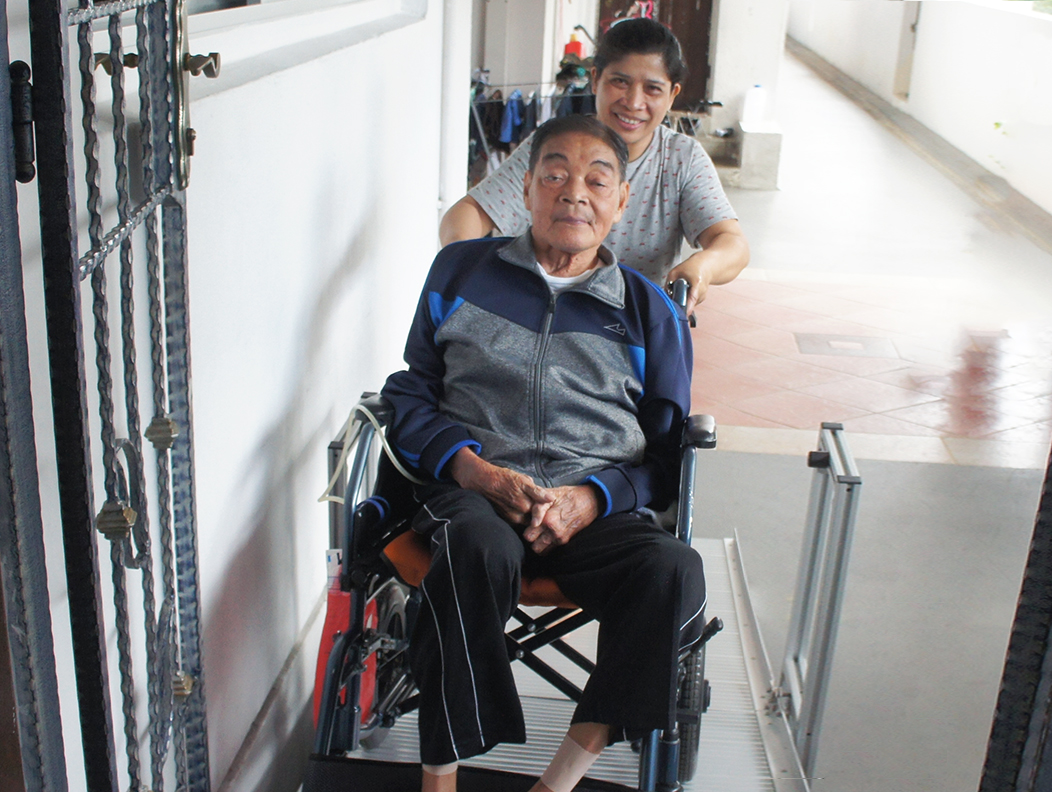 As for Mdm Tay, she feels a weight of caregiving has been lifted off her shoulders. With the FDW's help and the financial assistance from SMF and EASE, she can finally take some time off for herself.
"I used to go out with my friends on weekends, to places like Gardens by the Bay, Sentosa or shopping. Since my husband got weaker, I haven't been able to do that. With help, I now have some time on my hands. I will relax for a while. Maybe after that, I may even look for a part-time job. I am still mobile and have energy, so why not?"

Looking for Help?
The Silver Generation Office visits seniors and their caregivers to share about and connect them to relevant government initiatives and schemes, and encourage them to attend community activities and health screenings. If you have any question or wish to know more about any grant or scheme, feel free to call the AIC hotline at 1800-650-6060.
If you are a caregiver or senior who needs help moving around at home, the Seniors' Mobility and Enabling Fund (SMF) may be helpful to you. It offers subsidies on assistive devices such as wheelchair, commode and walking stick. SMF also offers subsidies on Home Healthcare items such as milk supplements, thickeners and adult diapers.
If a senior may be at risk of falling at home, installing special tools around the home under HDB's EASE, such as ramps and grab bars, may help prevent falls.