It's never too late to start a new chapter in life — one that's fun, fulfilling and gives other people joy. Long-time friends Gillian Goh, 67, and Davidson Teo, 63, who started busking in 2021 are a testament to this.
The pair met as colleagues in the insurance industry, and have been friends for over 30 years.
"We've known each other since our insurance days in the 1990s. He was the one who put me in the business. Back then, I was working for his manager, who trained me when I was an agent. I moved up to a supervisory level after three years.  Then, I ran my own agency, and had to recruit and train agents and interns. I realised it was not easy to do everything myself and I was also doing my own personal sales insurance. So, I sort of recruited Davidson over to work for me," recalls Gillian. 
A love for the same things cemented and strengthened the friendship. "We have a lot of shared interests," says Davidson. "We both like swimming, cycling, golfing, and of course, singing." 
"Whenever we get together, we sing. We love karaoke," says Gillian. Music has always been a mainstay in their lives.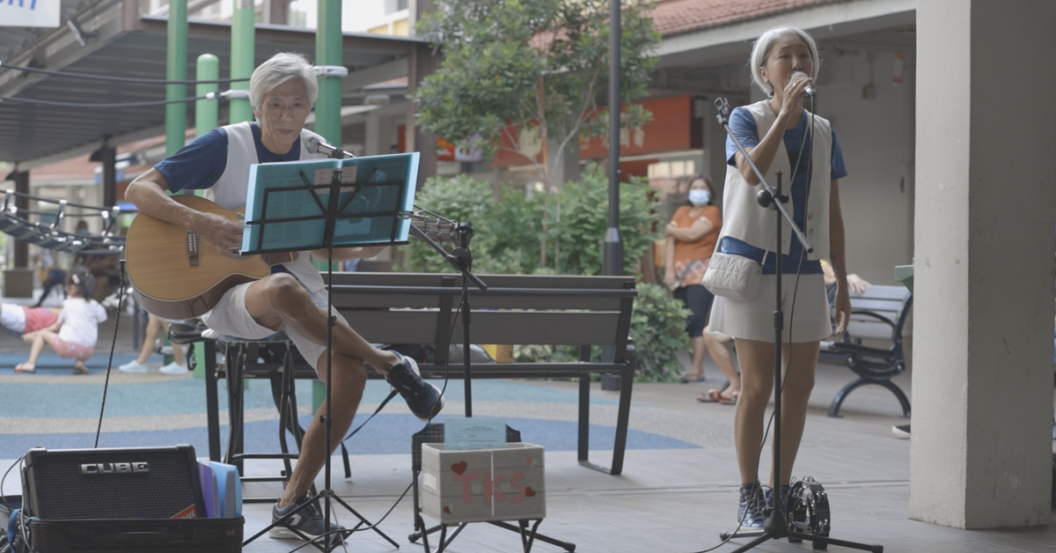 "I've been playing the guitar since I was 10. Music and singing have always been important to me — it's in my blood," says Davidson. Gillian too, comes from a musical family and loves singing whenever she gets the chance. 
"It's in my family's DNA," Gillian remarks. "Singing has been a passion since I was young," she says, recalling the time when she took part in a singing competition when she was in Primary Six. "I think it runs in the family, because my siblings are also quite good at singing."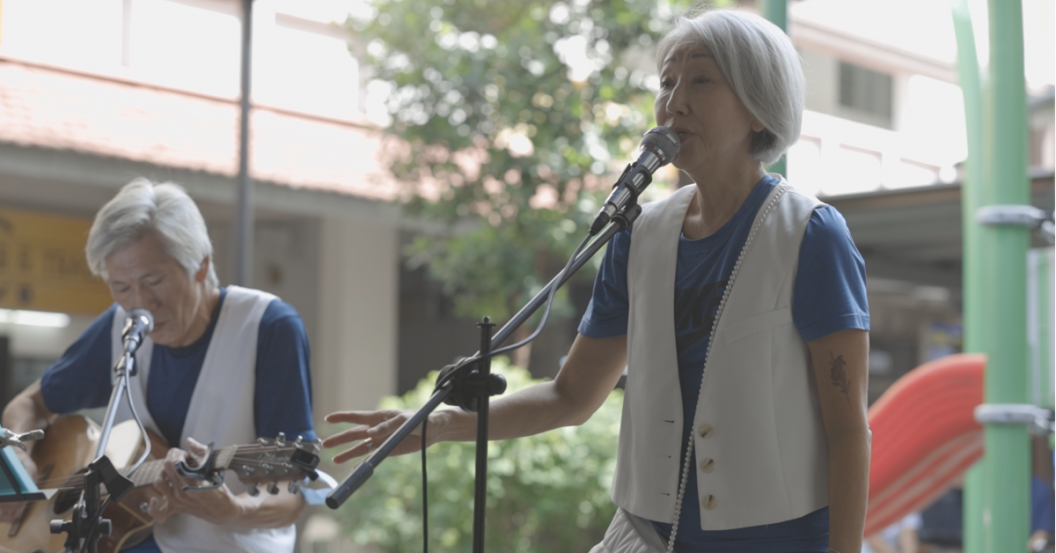 The Advantages Of Busking — For Performers And Audience
The shift from music being a hobby to something they do on the regular happened quite recently. In fact, just like their previous career, it was Davidson who went into it first, and pulled Gillian in later. 
"I went into busking because I love singing, I love playing the guitar. I've also been doing charity shows for the past 10 years now. Also, getai and year-end events for companies," he says. He decided to apply for a busking license, but because of pandemic restrictions, he wasn't able to perform. 
Around this time, Davidson noticed that Gillian was having a hard time. Her ill sister, who she has taken care of for three years had just passed away. "I found it very hard to accept when I lost her. I was very depressed. He noticed and suggested that I try to apply for a license as well. Since singing is my passion, I thought, 'Why not?'" After an audition in July, the two got their group license in August and started busking.
Now known as Silver Hype, they are consummate professionals, practising several hours a day and carefully choosing their sets. 
"Usually, any time we have the time, we practise. One song can take up to three hours of practice," Davidson says. "We have to get the right key, the right tempo and all that." Because he has more experience performing in front of an audience, Davidson chooses the songs, most of which are Hokkien and Cantonese songs, with a few English golden oldies thrown into the mix.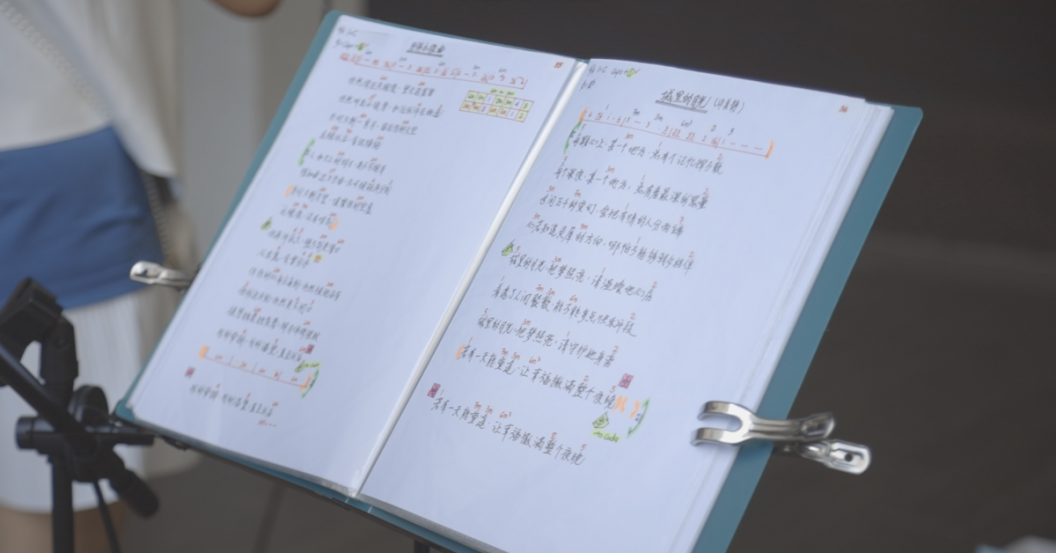 They perform about 30 songs for roughly three hours every time they're out busking, and admit it's a lot of work, mentally and physically. "Sitting for three to four hours, playing the guitar and singing — you have to sing from your diaphragm — it's not easy," says Davidson. 
It's all worth it for them though — especially because of their connection to their audience. "One gentleman at Paya Lebar Square came up to me after a performance and gave me $20," Gillian recalls. "So, I told him to put it in the token box, but he said it was for me personally because he appreciated my singing. Of course, I thanked him. I was very grateful, but still put the money in the box, after," she laughs. "Davidson also gets these encounters." 
While the monetary appreciation for their music is very much welcome, the duo says that what really gets them going is when they see the seniors in the heartlands having a good time during their performances. "We see a lot of elderly, uncles and aunties watching us sing. We would ask them what songs they'd like to hear so we can sing them. We feel good inside when we bring smiles to their faces and know that they enjoy our performance," Gillian says. 
"I think seeing us perform is a way of encouraging them as well," Davidson adds. "It's something that they can look forward to. We see them come to our performances, some in wheelchairs, and if they like the music then they'll come rather than stay home."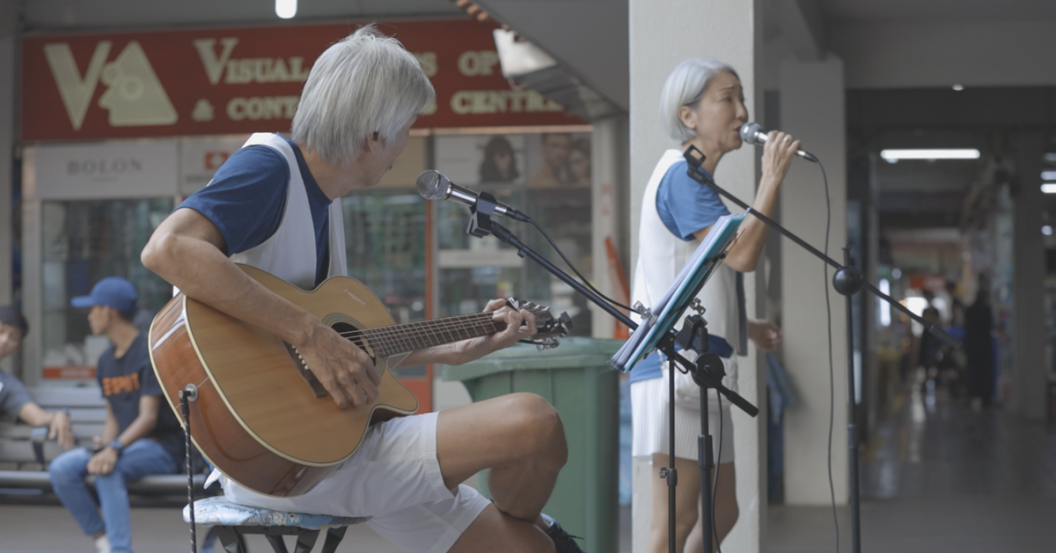 Lessons Of Busking And Being Active After Retiring
"I feel very strongly that life does not end at retirement age," Gillian says. "You've given most of your time to your families, now that you're retired, what can you give yourself for the rest of your time? Be it fishing, hiking, or mountain climbing, just do it. Because I feel that when you move, you keep yourself alive, you feel energetic and healthy." 
Davidson adds, "Retire the right way. Do something that you like, get out of the house, because if you stay home for too long, you become lazy, and your health will deteriorate. Go do something." 
As for Silver Hype? "I think we will sing for as long as we are capable of singing," Gillian says. Sounds like a pretty good retirement plan.