What does it feel like to know for certain what you want in life?
For Cecilia Chong, 70 years old, that choice was not really a choice. She was bitten hard by the proverbial acting bug when she was young — and the fever has not gone away since. 
As a child, she would come home from school, turn on her Rediffusion radio set, and listen to her favourite Cantonese stories.
"I liked the acting ability of the voice actors. So, I started to voice act by myself, playing different characters, changing my voice and then trying out different emotions, sound effects and playing back the recording, which I liked, because sound effects after they've been recorded sounded more realistic," she laughs.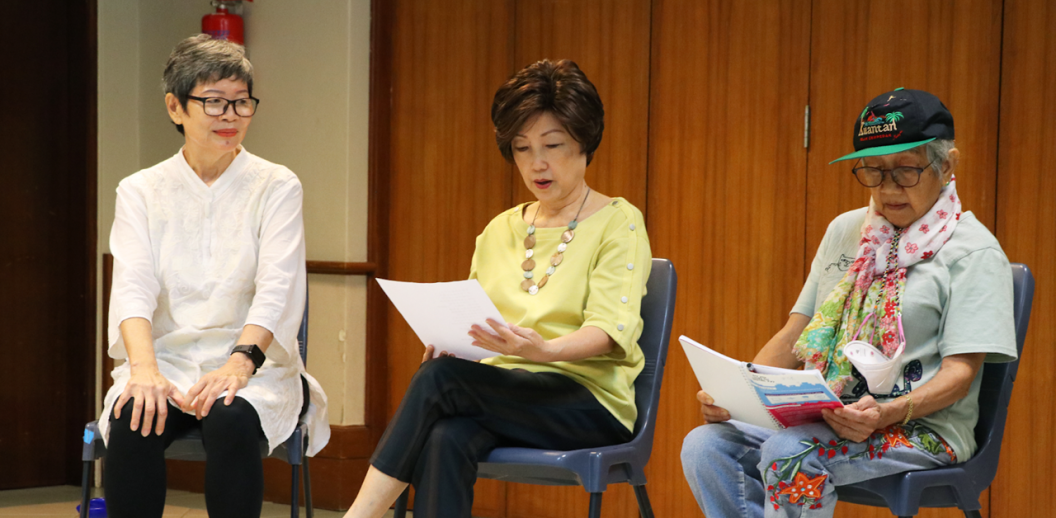 Even now, years later, that love for acting has not gone away. She would audition for roles and act in commercials, though, as she said, "in commercials, especially if selling a service or product, the acting is usually dramatic and exaggerated." Quiet and reserved herself, Cecilia prefers natural and subtle acting. 
For her, being able to take on a role and bringing a character to life is what she most loves about acting. "I can bring a character to life in a way that I liked, if I'm allowed. I get a sense of achievement and satisfaction if I'm able to do it." 
These days, when she's not watching TV or chatting with friends on WhatsApp, she looks for acting roles. "I would look through casting ads, and then go see if I can be shortlisted for an audition." Having acted in commercials, short films, even student films, she's the embodiment of the saying, "There are no small roles, only small actors."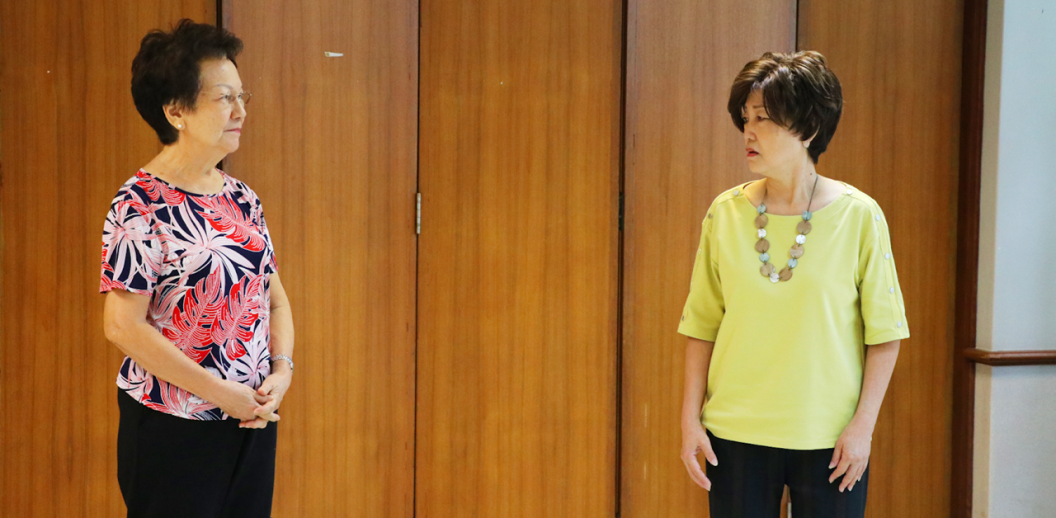 Acting As A Way To Understand Dementia
It was on one such search for a role that she got the opportunity of a lifetime. This year, Cecilia was in a film called "Always, Mother", playing as someone living with dementia. The film was produced by St Luke's Hospital to highlight the impact of dementia on families and the care options they have. 
"I was going through all the casting ads and came across this one. So, I applied for it and was shortlisted to audition. They wanted a face-to-face audition, but I didn't have time then, so I asked if I could do a self-recorded audition and they were agreeable with that. I sent in my video, and I was selected." 
Though obviously meant for her, it was a role she could not relate to, having had no personal experience with dementia in her family or friends. Like all good actors though, she did her research and prepared for the role, basing her acting on what she could glean from other people who had experience dealing with the condition and by watching a TV show. 
"I talked to friends who have family members suffering from dementia. I also tried to take references from other actors. At that time there was this show called Your World in Mine on Channel 8. One of the actresses played a role as someone with dementia so I watched many episodes of that to get a feel for how they behaved. Also, during the shoot, healthcare staff from St Luke's Hospital were our co-actors. So, whenever I had any opportunity, I would ask them how those with dementia are like so as to give a convincing portrayal of my own." 
On hindsight though, she realised that her late mother-in-law may have experienced the condition herself. "I actually have not really encountered someone with dementia," she said, "It was only recently, when dementia is more talked about that I realised my mother-in-law in fact may have suffered from it. We did not know, so she did not get any treatment." 
By talking to friends while researching the role, Cecilia came to realise that her mother-in-law was exhibiting signs of dementia then. "She was always accusing my sister-in-law of stealing her clothes. And occasionally, she would get very angry for no reason." 
That role also made her realise how dementia can affect families without them realising it. "I realised you have to pay attention to your family members, especially your ageing parents. Nowadays, young people are very busy at work so much so that they do not notice the changes in the behaviour of their parents. I think it's very important that they spend more time talking to them and observing them. Instead of just texting, try to visit them or do a video call."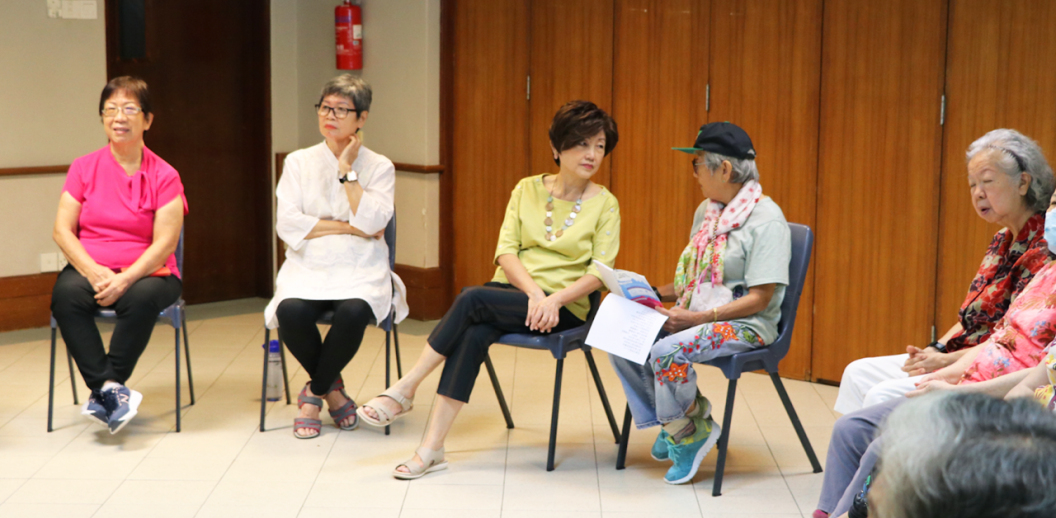 Acting As A Group Activity
Every Friday afternoon, Cecilia goes to The Glowers Drama Group activities, which she joined in 2015. They spend many months rehearsing for upcoming productions. "I found out about it from an ex-colleague. So, after retirement, I attended a few sessions and joined after that." Composed mostly of seniors, the group meets weekly for what is essentially an acting workshop. 
During a session, an acting coach would take the group through voice and movement exercises. "Then people will come up to tell and act out a story based on scenarios given by the teacher."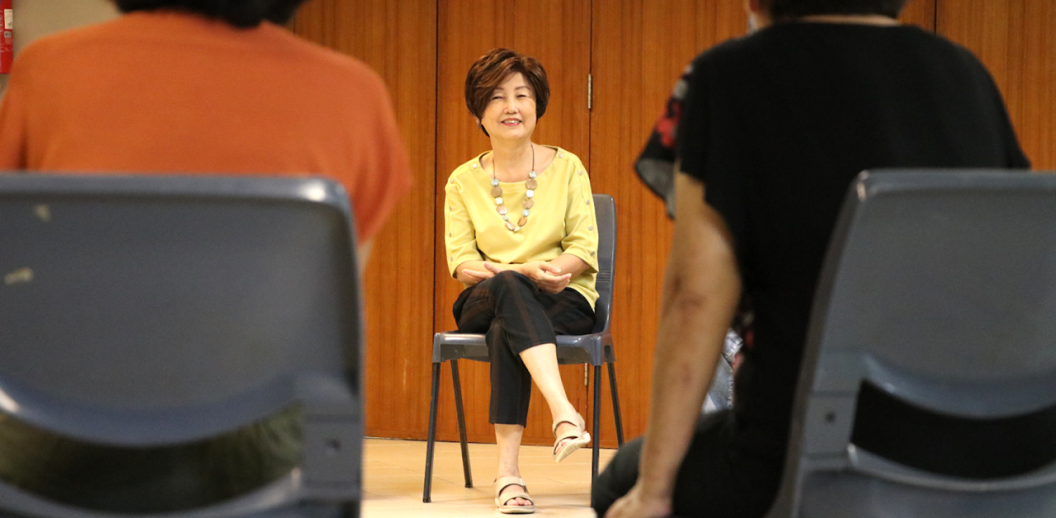 A fun and gregarious bunch, The Glowers gives Cecilia a chance to interact with fellow actors — and the opportunity to get acting roles. "When I first joined, they were already preparing for a stage production, so all the roles have already been filled. I didn't get the opportunity to act then, but I was able to help in stage management." 
Learning about another aspect of stage plays was an eye-opener for Cecilia. "In stage management, you need to know the story well and know every scene, so you can have the correct outfits, accessories, and props ready at the correct side of the stage. You also need to know who the actors are for a particular scene and gather them to wait for the next scene." Stage management made her realise where in stage plays she wanted to be: In front of the camera or onstage — not behind the scenes. "I prefer acting. It's quite stressful, stage management. You cannot afford to miss out on anything!"

The Value Of Keeping Active
She believes that older people should be more active and take care of themselves more. "Get out of the house. Ladies, dress up, and get out of the house to better yourself. Go for a walk. Use your legs to explore Singapore. Instead of going out of the country, go around Singapore. I would love to be more active and play table tennis — probably the only sport I am still able to play," she laughs. 
She also recommends meeting up with friends occasionally for a quick catchup and a lovely meal. Friendships, especially long-time friendships are important to her. "I still meet up regularly with my primary school classmates. We're having dinner this coming Monday." Meeting up with family for a meal also puts her in a good mood. 
Once a performer, always a performer, though. "I have a once-a-week karaoke session with my drama friends," she laughs. "I love karaoke.  On days when I sing well, I feel good and happy. Oh, and of course clinching a role in an audition." 
Watch Cecilia's performance in "Always, Mother" below.

The film was produced by St Luke's Hospital, as part of their annual fundraising effort, to highlight the impact of dementia on families and the care options they have. Show your support here.