What happens when your spouse falls ill, but you only have each other to depend on? How is it like to be the sole caregiver, with your loved ones unable to offer support? 
We all know that caregiving is not easy, especially for someone who is also getting on in years. This is the situation Mdm Norsimah, now 67, found herself in three years ago when her husband, now 62, fell ill. 
"My husband had a stroke and fell down," she says. "I had to call the ambulance to help get him to the hospital. Since then, I have been caring for him. He now needs help going to the bathroom and moving around."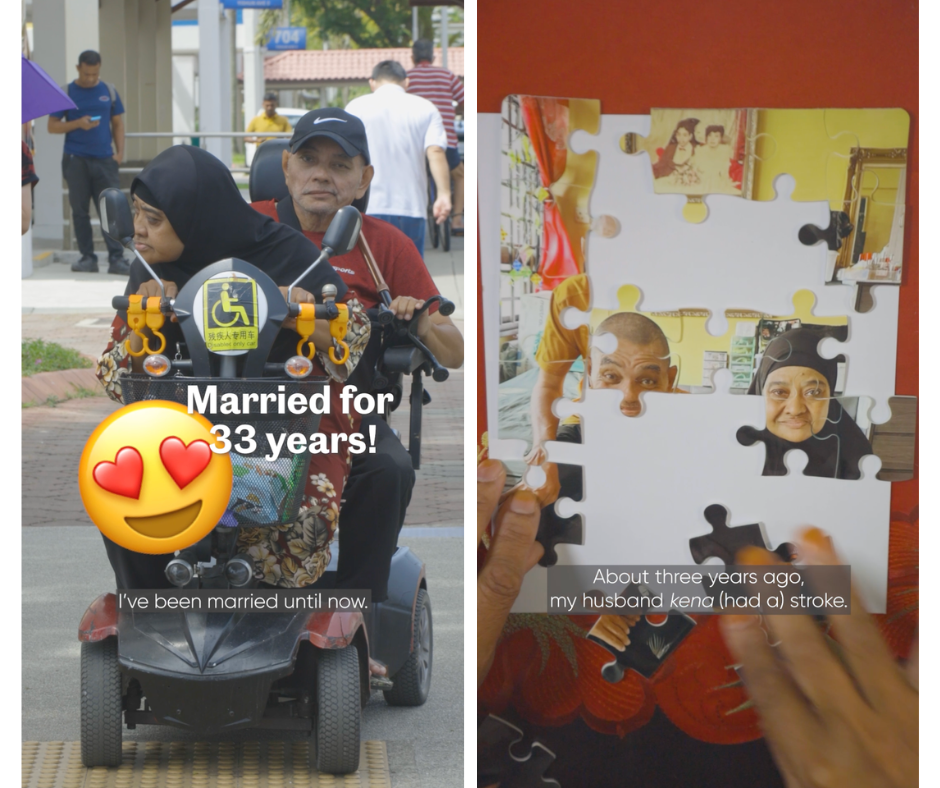 Mdm Norsimah says caring for her husband wasn't an easy transition and changed their routine. For example, it now falls on her to see to his personal needs, as well as her own. 

"My husband needs help to walk and go to the toilet," she says. Because her husband cannot easily move about, the hospital made arrangements to install grab bars at home. "After his fall, the hospital asked if we wanted grab bars installed at our home. We said yes, so they helped us install them." 

Running errands now also requires more planning. "When we go somewhere nearby, he usually uses a personal mobility device (PMD). If we're going somewhere far, we take the wheelchair and public transport." 

In other ways though, their lives have remained the same, with their routine revolving around getting the necessities they need for daily living.

The couple lives a simple life, as shared by Mdm Norsimah. "In the mornings, we eat bread. For lunch, we usually eat out at a coffee shop nearby. Sometimes we go to the mosque nearby for food as well." Occasionally, they find time to get together with friends, usually for a meal. 

And even with life's difficulties, Mdm Norsimah takes everything in stride, even the occasional argument with her husband of 33 years. "He can be very particular about things," she laughs.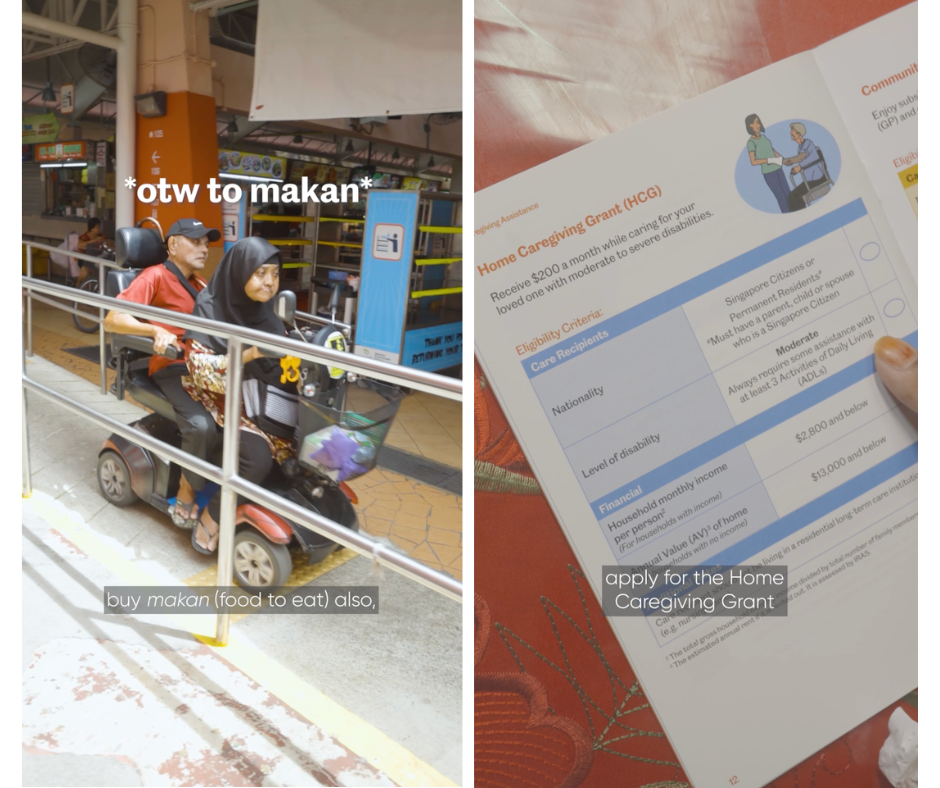 The benefits of the Home Caregiving Grant
While having found a rhythm to caregiving in their daily routine, Mdm Norsimah still faces difficulties, especially with her husband's deteriorating condition. She's thankful that they get support, both from the private and public sectors. For example, non-profit organisations occasionally provide necessities like diapers.  

"After his fall, a Silver Generation Ambassador visited us during their outreach and explained about the grant. He helped us apply for the Home Caregiving Grant and got a doctor to come for the assessment." Silver Generation Ambassadors are under the Silver Generation Office, the outreach arm of the Agency for Integrated Care (AIC).

For families like Mdm Norsimah who have no means of financial support, AIC provides different forms of financial assistance, one of which is the Home Caregiving Grant, which gives a monthly payout of $400 to low-income families to help defray the cost of caregiving. "The grant has been a big help," says Mdm Norsimah. "We live alone so this grant allows me to take care of makan, get supplies like adult diapers and pay for medical expenses, like when he has to go for medical appointments." 

The grant is usually given to individuals who need help to perform three or more Activities of Daily Living. It also entails other criteria, such as monthly household income. 

Mdm Norsimah is grateful for the support of organisations like AIC in helping her with caring for her husband. "[Organisations like AIC] are a great help to people like us," she says.