Meals to Seniors Doorsteps
(This story is from our archives of NextStep Magazine. The Magazine has since been renamed to AIC With You)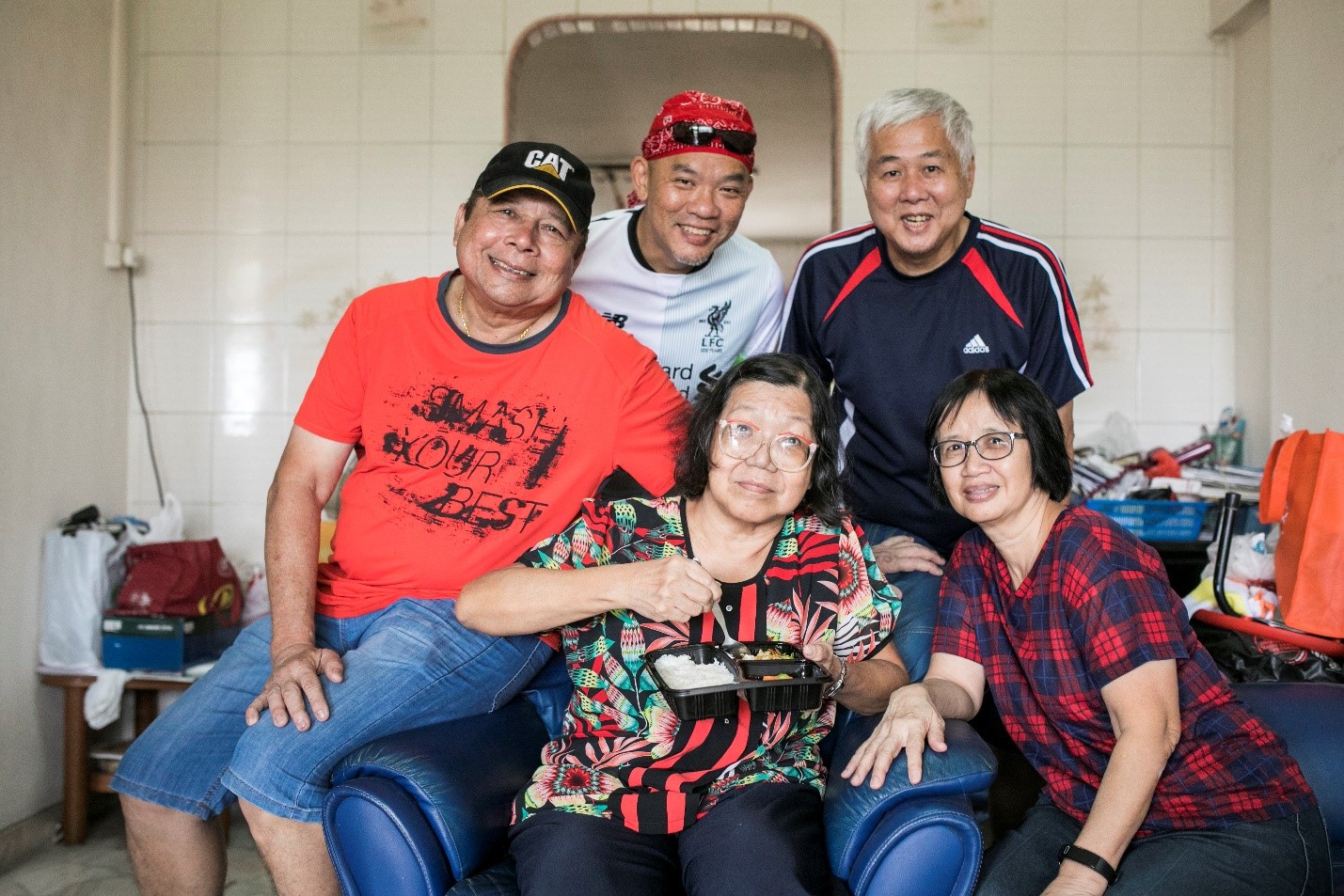 David Pereira, 64, realised there was more to volunteering on the Meals-On-Wheels (MOW) Programme than just food delivery, after a meaningful encounter with a blind senior.
During his delivery rounds, the elderly gentleman asked him for help to charge his mobile phone. David stopped to chat with the senior as he helped to plug in the phone. The brief exchange convinced David that he made the right decision to volunteer. "When I left, I feel like I've touched him. He needed help and I was there for him, even if it was just for a few minutes. This is why we come back to volunteer."
Beyond a delivery service
To David and his fellow volunteers, the MOW programme is more than just a delivery service. It gives them the opportunity to interact with the seniors, understanding more of their needs. Another volunteer, Stewart Lee, 52, recounts an incident where the senior he was delivering food to had trouble lifting the lid of the food container, because of Parkinson's disease. He asked Stewart to help him peel off a corner of the lid, making it easier for him to open the container.
First line of help
These volunteers are also often the first people to spot anything amiss with the seniors. Aileen Koh, 63, another volunteer, shared, "There are a few incidents when we see that a food packet we've delivered the day before is still at the doorstep. We contacted Touch immediately so that they could find out if something's wrong."
About the volunteers
Aileen and her husband David Koh, 65, were also the ones who roped in David Pereira and Stewart into the MOW programme. After a few sessions, they felt the impact of their work. Stewart shared, "I saw that some seniors are handicapped, have illnesses or very frail. I feel a sense of satisfaction knowing that I helped to make their lives better." INVOLVING THE YOUTHS The group occasionally gets their children to help them with their delivery rounds too. "I have brought both my sons to Meals-On-Wheels. Now, they occasionally help out with the deliveries," said Stewart.
Dishes up to her standards
Despite being a "picky" eater due to her Cantonese upbringing, Madam Loke Lye Fong, 68, is quick to compliment the variety of dishes delivered by the MOW programme. Since August 2016, she has been receiving lunch and dinner from MOW on most weekdays. The meals usually consist of a meat dish, vegetable, and rice.
Madam Loke, who is single and lives alone, was recommended for the programme after she underwent knee replacement surgery and was unable to buy her own meals. As she's on her own on most days, she also looks forward to the daily deliveries when she gets a chance to have a chat with the volunteers.
Creating nutritious recipes for seniors
Thye Hua Kwan Home Help Service EAST serves around 12,000 MOW meals monthly. Most of their chefs have past experience working in the hotel, restaurant or catering industries.
Florence Lee, in her 60s, is a chef in Thye Hua Kwan (THK) Moral Society for the past three years. Once a caregiver to her late mother, she now focuses on providing nutritious and easily digestible food to seniors.
She improves on the food served by emphasising on the use of quality meat and vegetables. She also does food tasting sessions with other chefs from the different THK branches to share feedback on the food providers' standards. To ensure variety, Florence refreshes the menu once a month, taking feedback from the seniors in the programme.
One tip to make food more appetising is to add mixed vegetables to the dishes. This gives the meals more "colour" and nutrition. Here's a simple Porridge recipe Florence recommends for caregivers to try out for seniors at home:
​​Chicken Porridge Recipe
​Ingredients: 

• 100 grams minced chicken 
• 20 grams crab bites 
• 50 grams Thai rice 
• 5 grams spring onions (cut) 
• 10 grams fried shallots 
• Half to 1 litre of water 
• Salt and pepper 
• Sesame oil
​Method: 

• Bring the water to boil 
• Add in rice, minced chicken and crab bites 
• Boil until rice is soft and splits 
• Add salt and pepper to taste 
• Add a few drops of sesame oil for flavour
MEALS-ON-WHEELS PROGRAMME
Meals-on-Wheels is a subsidised meal delivery programme to meet the daily needs of the frail seniors with little to no caregiver support. Delivery for the TOUCH Home Care's Meals-on-Wheels service usually occurs twice a day, seven days a week. If you are keen to volunteer, please call 6804 6565 or email [email protected]