NEW TO CAREGIVING? HERE'S HOW YOU CAN FIND SUPPORT AND HELP
Being a new caregiver can be daunting, especially if you do not know what support you can get for yourself and your loved one. Caring for your loved one's physical and emotional well-being also often requires a lot of time and attention. Hence it may be challenging to carve time out to research on the services and support that you can tap on in your caregiving journey. The good news is that SupportGoWhere, a LifeSG initiative, recently launched a new section to help caregivers like yourself – Caregiving Support. 
A one-stop place for information on caregiving support
The online portal created by GovTech offers recommendations on government schemes and services for areas such as physical and mental health care, social support, future planning or financial support, as well as tips and resources.
To better support caregivers – especially those who are new to it – in finding relevant schemes and services, this new section on the portal lists the range of caregiving support available, including a Care Services Recommender tool that was developed in collaboration with the Agency for Integrated Care (AIC). It covers over 20 care services and more than 15 government financial assistance schemes that may support you and your loved one in the caregiving journey, information about them and how to apply.
Easy to access, easy to use
There are two ways you can go about finding the schemes and services that may be suitable for you and your loved one on the site. 
If you prefer browsing through a list of schemes and services, you can do so based on your loved one's condition, such as whether they are able to walk independently, require some support to move about, bedbound or living with dementia. 
For instance, someone who is caring for a loved one living with dementia will find recommended services such as Dementia Day Care, Community Rehabilitation Centre, and others when they click on the category "Seniors with dementia". They can read up more about the services on the portal itself, including details on how to apply. 
For those who wish to get more customised recommendations, the Care Services Recommender can help you with that. All you have to do is answer a few questions about your caregiving circumstances and it will recommend schemes and services that will likely be of help to you.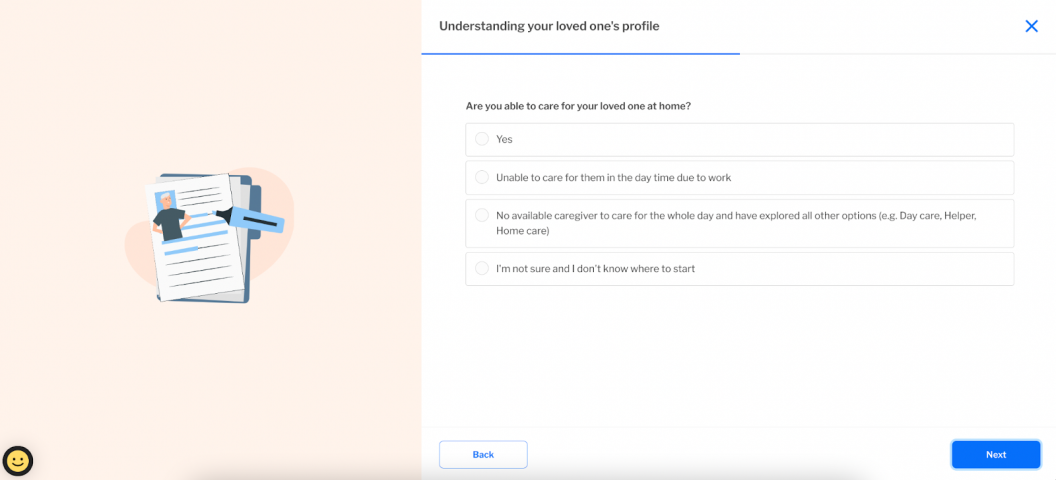 The Care Services Recommender helps caregivers in narrowing down the options that would best suit them. With caregiving-related schemes and services consolidated in one place, it also saves you time from gathering information from various websites and finding out how to apply for each of them. This process may otherwise be overwhelming especially when you're new to caregiving. Get started here: https://go.gov.sg/supportgowhere-caregiving-aicblog-dec22