Do you have a Merdeka or Pioneer Generation senior living with you? If you do, chances are you may have met one of AIC's many Silver Generation (SG) Ambassadors.
SG Ambassadors are volunteers who reach out to seniors and share with them on government schemes, healthcare services, and active ageing activities. Around 3,000 SG Ambassadors have been knocking on the doors of elderly residents, pointing them to schemes and services depending on their needs.
These SG Ambassadors aim to reach 500,000 Merdeka Generation (MG) seniors in Singapore. What they do is no small task, and if you are wondering how they go about engaging seniors, we've got the answer! We shadowed two SG Ambassadors on one of their routine outreach engagements to find out what they do.

Preparing before the visit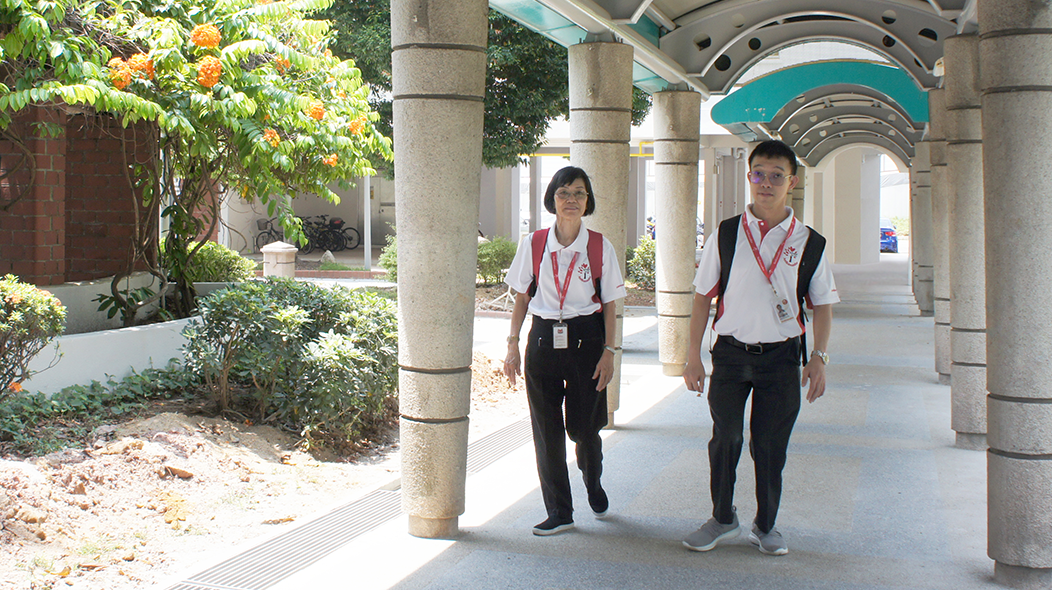 Senior outreach engagement is always done in pairs. For this visit, SG Ambassador Mr Paul Lee, 40, teamed up with his mum and fellow volunteer, Mdm Lee Kim Poh, 70.
They were on their way to call on 67-year-old Merdeka Generation senior, Mr Chan Cheow Chan.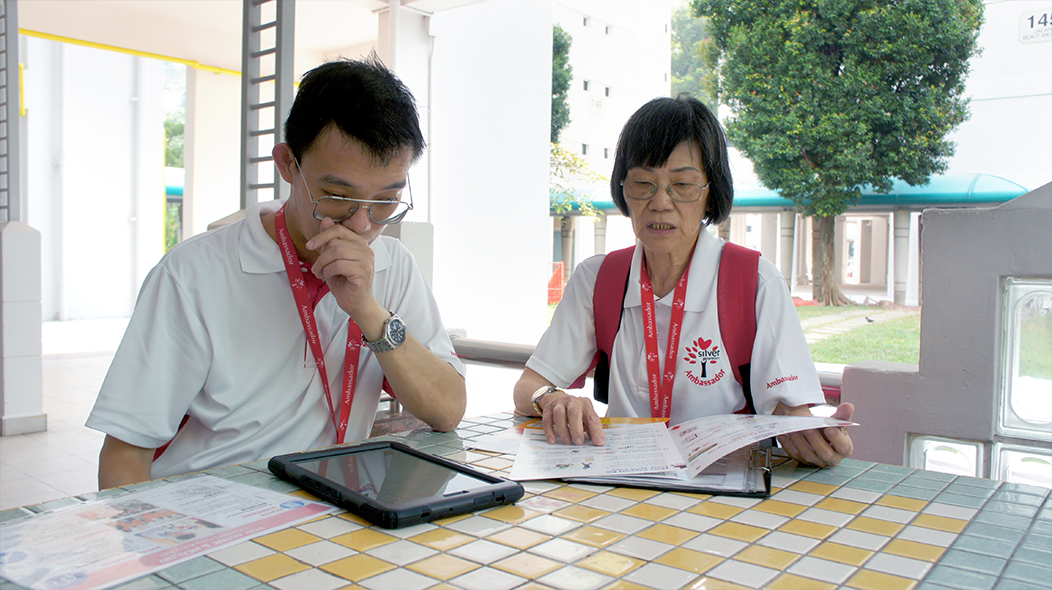 Before the visit, Paul and Mdm Lee would do their "homework". If a senior has been engaged before, the outreach information would be recorded down and can be accessed via a tablet (which Paul is reading). This way, the ambassadors have a better idea of what information to share with the senior for this second visit.
SG Ambassadors had visited Mr Chan almost three years ago. Paul was able to read up on Mr Chan's profile, gleaned from that previous visit, and get ready materials such as brochures for the MG package (in English and Chinese), schemes application forms, and more.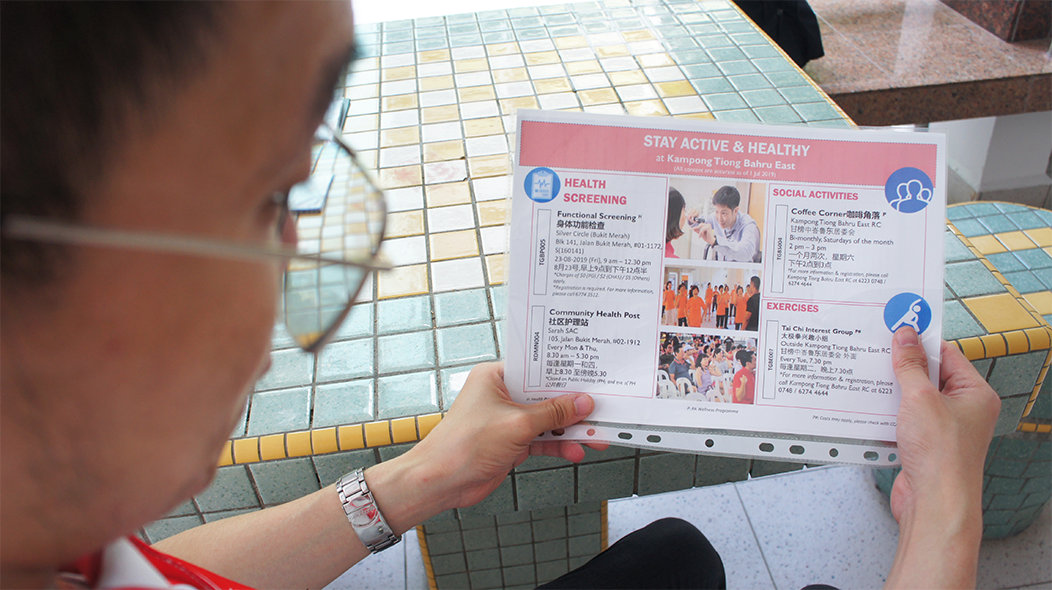 From Mr Chan's profile, Paul found out that he is working full time and is physically active. One of the information he got ready was on Active Ageing Programme, and even listed down relevant activities near to where Mr Chan lives.

Playing their part during the engagement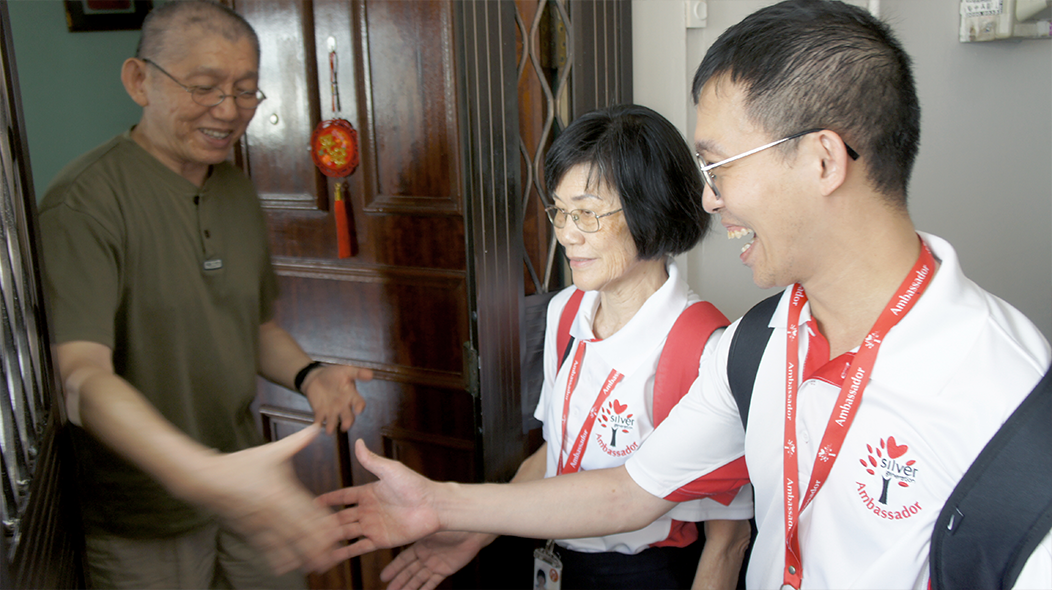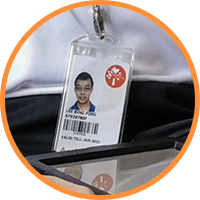 How to identify an SG Ambassador?
SG Ambassadors are identified by their Silver Generation Office (SGO) Polo tee and their photo ID passes.
When they first knock on a senior's door, they would flash their photo ID and identify themselves. This way, seniors like Mr Chan can verify who they are before inviting them in.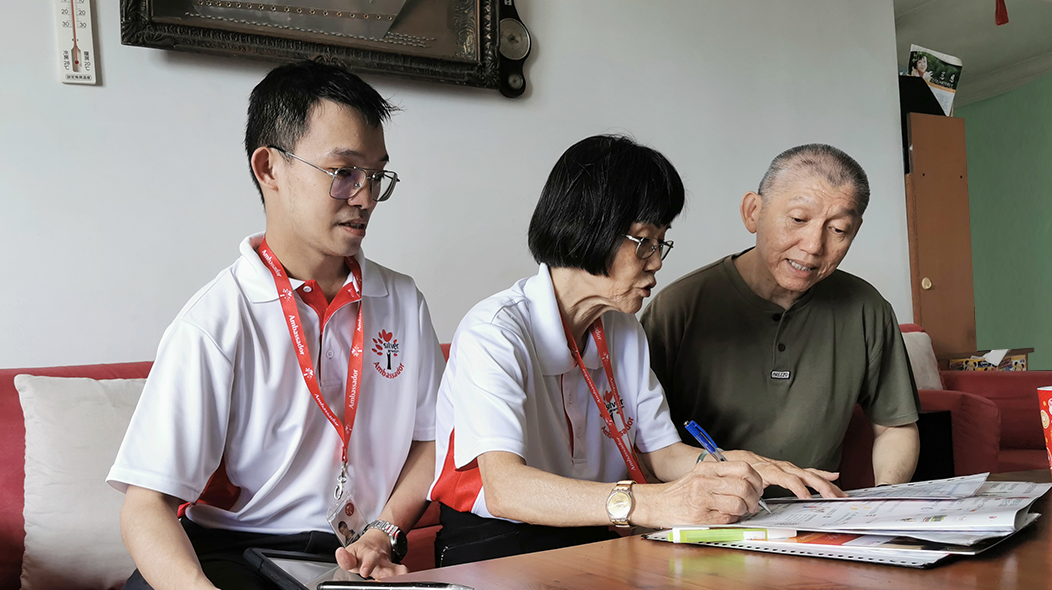 Paul usually conducts his outreach engagement in English, while Mdm Lee does it in Mandarin.
As Mr Chan indicated that he preferred the session to be carried out in Mandarin, Mdm Lee took the lead of sharing the latest information on government schemes and grants. Meanwhile, Paul took down notes from the session, which will be added to Mr Chan's case file for future reference.
Mr Chan remembered that when SG Ambassadors visited him almost three years ago, he was pleasantly surprised with the outreach session.
"They explained in detail about Medishield, GST Vouchers, and more. That was how I learned about the $5 medical checkup under the Enhanced Screen for Life programme. I have gone for around two checkups already!" Mr Chan recalls.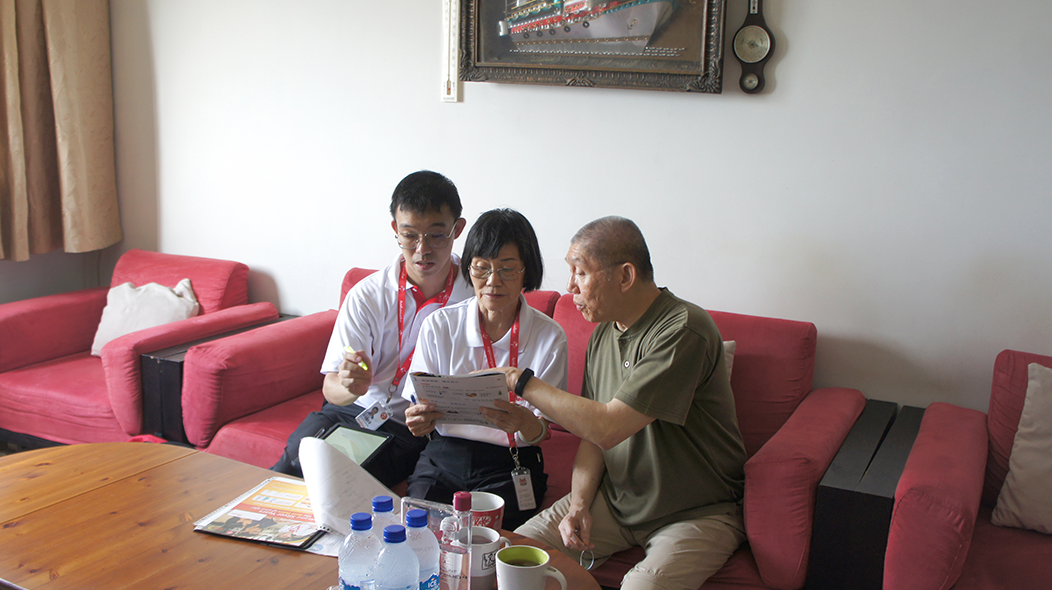 Similarly, for this visit, Mdm Lee shared information on areas that may be relevant to Mr Chan. She went through in detail the benefits of the MG Package, listed possible National Silver Academy courses, and brought up Active Ageing Programmes in the community, the Healthy 365 App and Functional Screening. She also introduced him to the Moments of Life app, where Mr Chan can stay up-to-date on his eligible schemes and the various discounts he can enjoy by flashing the MG e-Card in the app.

After this outreach session, Mr Chan has a clearer idea of his benefits. "I have actually read and heard about the MG package in the news, but the information is very brief, just touching on the main points. It's also one-sided, I cannot ask any questions. Mdm Lee broke down every benefit in detail and answered my queries. One of the questions I had was how to keep track of the usage of the annual $200 Medisave Top-Ups for my polyclinic visits. How do I know when I have utilised the amount? She gave me a tip, which is to keep the receipt from each visit, so I can refer to them to see how much I've used."
Mr Chan was also glad to learn from Mdm Lee about the newly launched Home Caregiving Grant (HCG). The HCG is a $200 monthly cash payout to support loved ones who require help in three or more activities of daily living. "I asked about the grant for my sister, who is a Pioneer and has dementia. My brother-in-law, who isn't working, is her main caregiver. Now that I know about this new grant, I can share with them the information," Mr Chan says.
Mr Chan is glad to welcome the SG Ambassadors to his home. "I appreciate them taking the time to understand more about me and share all these benefits that I can tap on. Even those schemes that I'm not eligible yet, like EASE, so that I can plan for the future."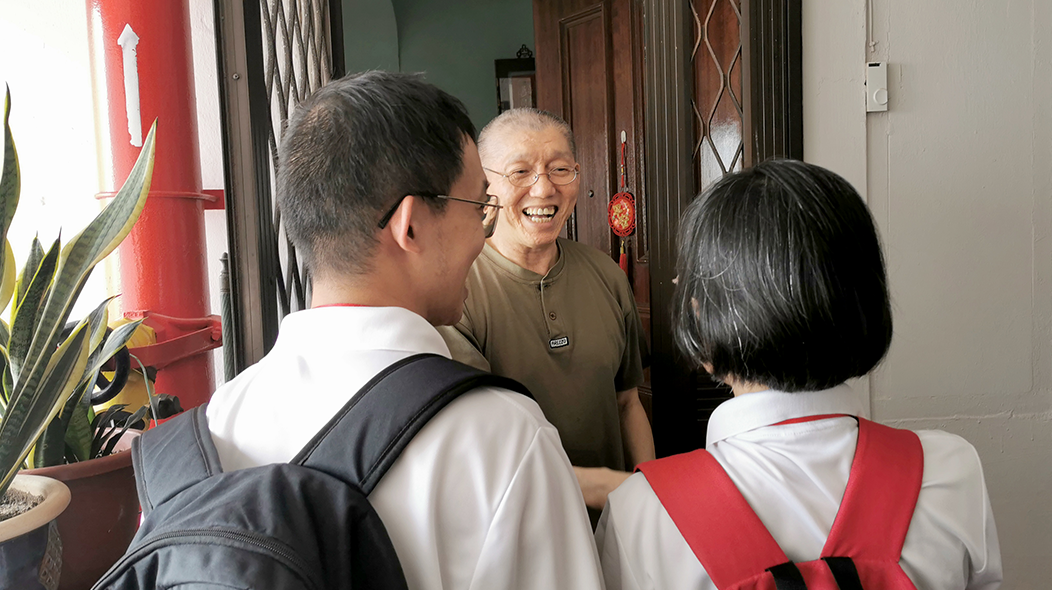 House visits typically take around 30 minutes to one hour. After the session, the SG Ambassadors head back to their office to record down their visit.

The Human Connection
Driven by their passion for helping others, both Paul and Mdm Lee became SG Ambassadors five years ago. Paul, who has cerebral palsy, is a tax consultant, and his mother Mdm Lee works as an Account Administrative Officer.
Seeing seniors learn new things motivate Mdm Lee. She is especially driven to help seniors who live alone. "We cater to those with no access to the news or the internet. We become their connection to Community Care because we speak their language. Most of the seniors don't speak English, they speak in dialect, and I can connect with them using dialect."
Paul echoes her sentiments on helping seniors in need, and added, "Volunteering also broadens my horizon and lets me learn new things."
Volunteering as SG Ambassadors has helped in mother-and-son bonding as well. Paul says, "We will exchange our volunteer experience. On some occasions, when I meet with situations where we are not welcomed, I would ask my mum for advice. She understands the apprehension some seniors may have when approached by strangers, and gave me tips on how to approach them."
The SG Ambassadors, like Paul and Mdm Lee, are friendly, enthusiastic and eager to help. Give them a wave and stop for a chat if you see them on their rounds in your neighborhood!