The phrase "Opposites attract" certainly holds true for friends Ratnam Periowsamy, 85, and Theresa Chua, 80s. The two could not be any more different. While Mdm Ratnam is gregarious and blunt at times, with animated gestures emphasising her anecdotes and stories, Mdm Theresa is quieter and picks her words carefully. She prefers listening and giving her more outgoing friend the spotlight, but would definitely speak out if she has something to say. 

We sat down with them to find out how this friendship came about and what people — young and old — can learn from them about making friends and meeting new people. As with any get-together with good friends, chatting was punctuated with teasing, laughter, and completing each other's sentences.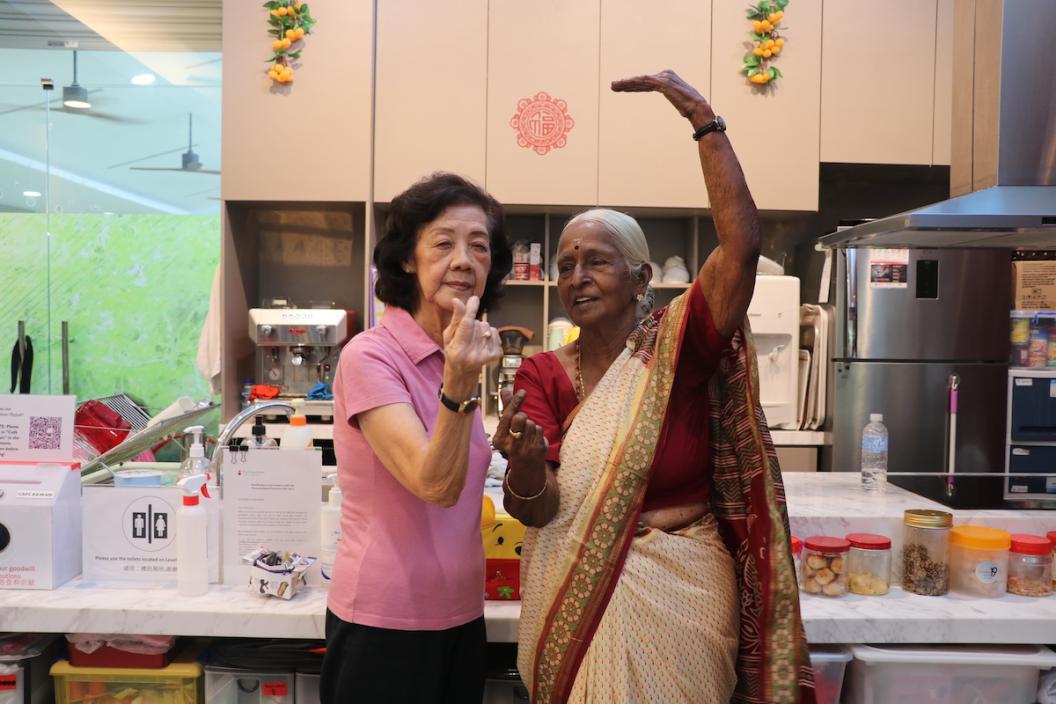 Lesson #1: Don't be afraid to get out of your comfort zone. 
"I met her at the Big Swing event," started Mdm Ratnam, only to be interrupted by Mdm Theresa. "No, the first time we met was in a computer class, remember?" she reminded her friend. "Ah yes, yes, it was in 2018 at a senior activity centre, but we did not interact until the Big Swing event a year later. It was an event for active seniors organised by the Tsao Foundation," Mdm Ratnam recalled. 
To hear Mdm Ratnam tell it, she didn't enjoy the event much because she felt out of place. "Everyone was Chinese, and I was the only Indian. Many of them were speaking Mandarin and I couldn't understand them. That's when Theresa came in." 
Mdm Theresa noticed Mdm Ratnam had a hard time integrating. "She smiled, so I smiled back," Mdm Theresa said. "I noticed that she was alone and thought she might want someone to explain what was going on, so I sat down beside her." 
Even though she couldn't fully enjoy the event, Mdm Ratnam didn't regret going. "I got one friend out of it, so it was worth it," Mdm Ratnam laughed. 

After finding out that they clicked, the two became a familiar fixture in various community centre activities. "We'd call each other, 'Are you attending this thing? Or that thing?' and then we'd arrange to go together," Mdm Ratnam said. 
Mdm Theresa agreed: "We always try to involve each other in activities." 

They would also have coffee or meals together, to talk about what they'd be interested in participating in next.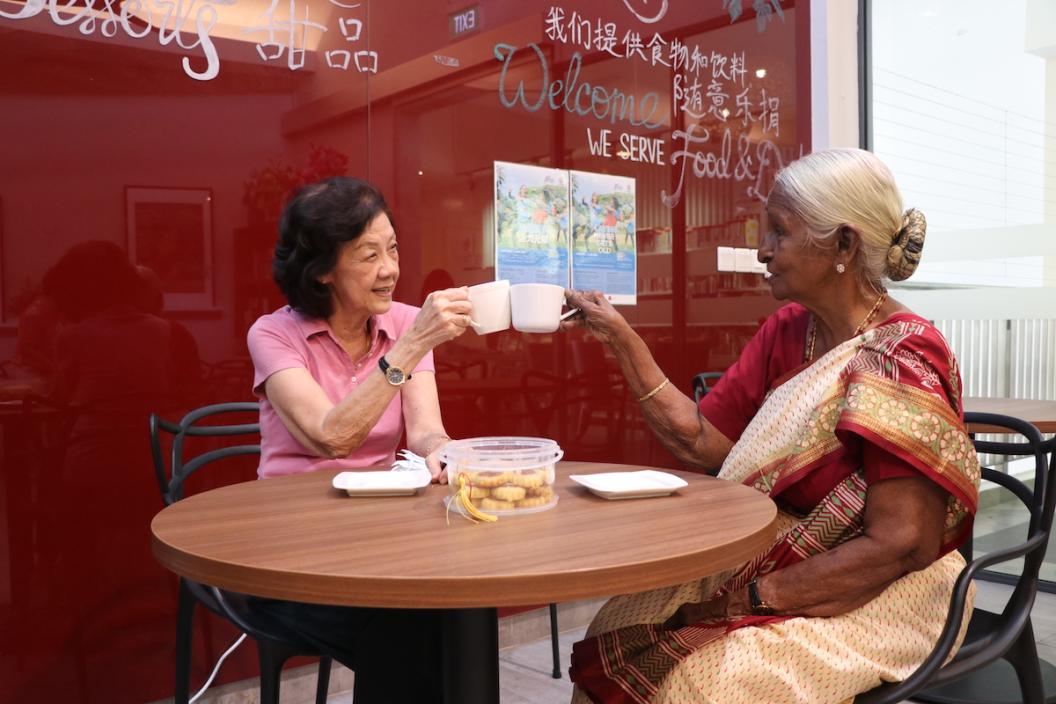 Lesson #2: Give and take is important.
For both of them, compromise is key. "Yes, there is chemistry, but more importantly, we understand each other," said Mdm Theresa. 
Understanding means also accepting each other's quirks and faults. "If she points out my faults, I must be able to accept what she's saying," Mdm Ratnam said. "If I don't accept what she's saying, then that's when conflict starts, right? We are certainly old enough to know this."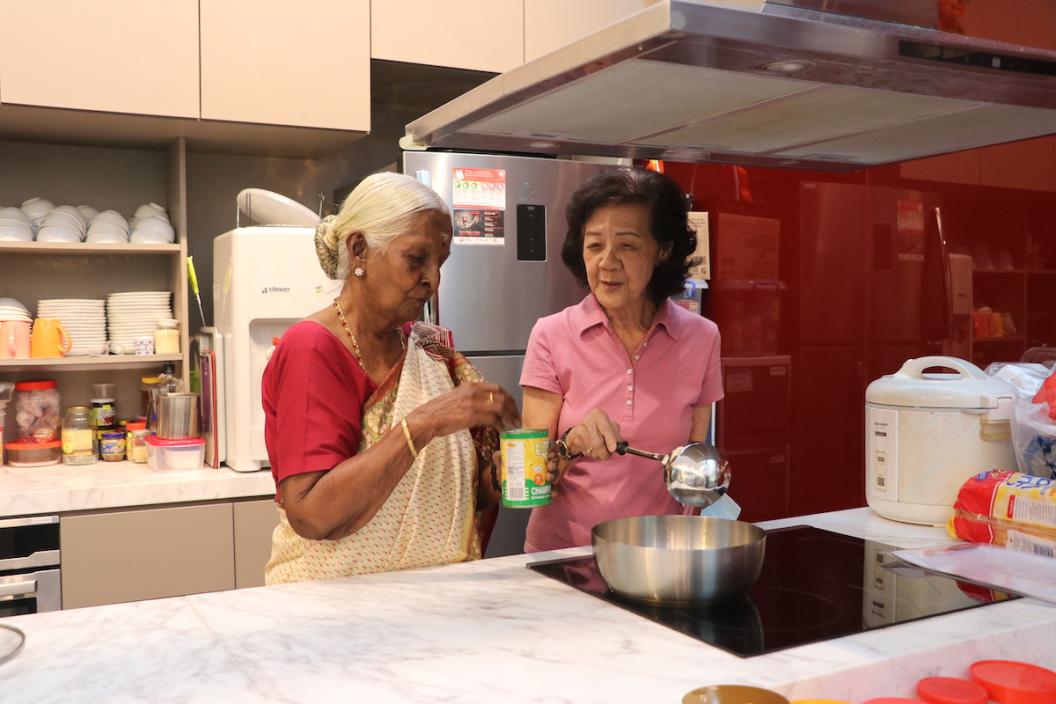 Lesson #3: Bring out the best in each other but respect each other's differences.
"I'm always the talker while she's the listener. She's willing to put up with me, that's why I like her very much," Mdm Ratnam teased, while Mdm Theresa laughed and nodded her head. "The thing is, when you care about someone, you want to contribute to and be a part of their lives. That's how a friendship develops." 
As an example of how their dynamic works, both point to a recent video they were featured in. The video talked about how seniors can be more independent. "I basically 'bullied' her into joining," Mdm Ratnam laughed. "Otherwise, she'd always say, 'I don't want'." 
Mdm Theresa was quick to point out that she had been involved in a project related to the video, and she was apprehensive simply because she wasn't used to being in front of a camera. 
"Honestly, I don't mind helping out, but I'm more comfortable being behind-the-scenes," she said. "But since I was already involved in the project, I agreed to be featured in the video. Because, why not? I might learn something." 


Lesson #4: Learning — about each other and about other things — deepens the friendship.
"I have learned to be more outgoing because of her," Mdm Theresa said. "I am one who likes to learn about other cultures, so whenever there is something about the Indian culture that I wasn't familiar with, I would ask her. She even taught me how to wear a sari for a Deepavali event at the community centre." 

For Mdm Ratnam, it's difficult to list down what they have learned from each other. "It's hard to point out what I've learned from her or what she has learned from me, because it's a constant give and take."" 
What both of them share, though, is a love for learning new things. For example, Mdm Ratnam, has learned to use a smartphone in recent years. "I had to learn so I can be more independent. It was especially so when I had to go abroad, I thought I should learn, especially because we needed to bring vaccination records and all that. I did not want to carry the physical documents around." 
Similarly, Mdm Theresa, likes to learn new things at the community centre. "I especially like exercise classes. I learned qigong, tai chi and even pickleball. Now, I'm taking stretching and yoga classes. If I have the time, I don't mind joining. I'm open to everything because different activities teach you different things." Mdm Ratnam agreed: "Activities like these stimulate the mind."

Lesson #5: Get involved in the community. 
Both ladies strongly believe in supporting the community they are in, and find ways to chip in where possible. 

"We have to do something to pass the time," Mdm Ratnam said. Mdm Theresa agreed, "If we are going to sit and brood, it's our loss. We should find the resources to do the things we enjoy and stay active." 
A former teacher, Mdm Ratnam taught Math and English. Now, in her role as Whampoa Community Advocate, she helps organise activities for the Tsao Foundation's ComSA (Community for Successful Ageing) Club, which holds social and sporting events for seniors. 
Mdm Theresa, on the other hand, has been an active Silver Generation Ambassador for the Agency for Integrated Care's (AIC) outreach arm, the Silver Generation Office (SGO). 
"I was one of the volunteers for SGO when it first started," said Mdm Theresa. "I was encouraged to join by a friend. At first, I didn't want to join because what would I talk about with the seniors I meet? But we have regular training to help us. I also liked that it was on a flexible schedule because that's very important for me to plan my activities so I continued volunteering." 


What the duo discovered from interacting with their more reclusive peers is that what they need is someone to listen to them, to engage and interact. "It takes a while for them to really open up to us. But we persevere and eventually they talk," Mdm Theresa said. 

But from their experience of how their friendship started, both of them agree that it starts with that one smile. "You do it in increments," said Mdm Ratnam. "First you smile and if they smile back, you say hi. Soon after, you start to chat." 

Mdm Theresa echoed her sentiments, "I think a smile starts it all. It speaks a thousand words."