AIC #EatWell Recipes: Lauk Singgang (Fish Fillet Soup) in 5 Steps
Lauk Singgang, or fillet fish soup, is a home-cooked dish ideal for those looking for a light yet appetising meal.
A light fish-based soup with a hint of sour and sweetness, this dish is great on its own or when paired with rice. Lauk Singgang uses a variety of ingredients like tamarind, shrimp paste (belacan) and coriander leaves to enhance the flavour of the dish. Nonetheless, it's a relatively simple dish to pull off. 
Don't just take our word for it — prepare a tasty bowl of Lauk Singgang for yourself, or your loved ones by following our recipe here.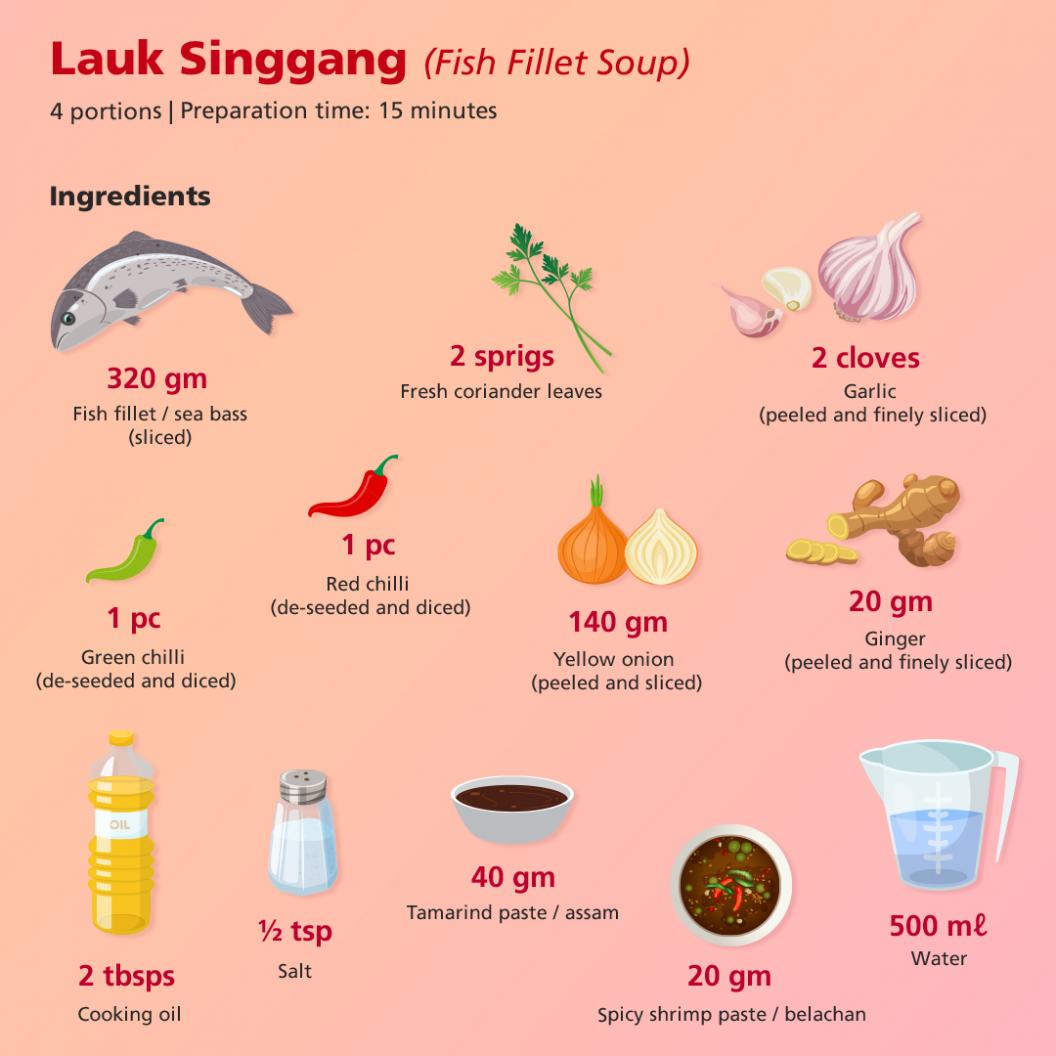 Ingredients
320gm of Fish fillet/ sea bass (sliced)
2 Sprigs of Fresh coriander leaves
2 Cloves of Garlic (peeled and finely sliced)
1 Piece of Green chilli (de-seeded and diced)
1 Piece of Red chilli (de-seeded and diced)
140gm of Yellow onion (peeled and sliced)
20gm of Ginger (peeled and finely sliced)
2 Tablespoons of Cooking oil
½ Tablespoon of Salt
40gm of Tamarind paste /assam
20gm of Spicy shrimp paste / belachan
500ml of Water
Let's Start Making Lauk Singgang (Fish Fillet Soup)
Step 1 - Heat oil in a soup pot. Add sliced garlic, onion, and ginger and fry until fragrant.
Step 2 - Add diced chilli and cook for 2 to 3 minutes. Set the soup pot aside.
Step 3 - Mix the shrimp and tamarind paste with water in a separate bowl.
Step 4 - Strain mixture (Step 3) into the soup pot and bring to a boil.
Step 5 - Add the fish slices to the broth, bring to a boil and add salt. Garnish with fresh coriander leaves and serve with rice. (Optional: Serve with sambal chilli).
Nutritional Values of Lauk Singgang (Fish Fillet Soup)
Energy: 257kcal
Protein: 9g
Total Fat: 18g
Saturated Fat: 5g
Cholesterol: 24mg
Carbohydrate: 27g
Dietary Fibre: 2g
Sodium: 967mg
Folate: 2µg
Calcium: 42mg
Iron: 2mg
Can't wait to try more of our #EatWell recipes? Stay tuned to our page, or check out our cookbook for more healthy recipes.