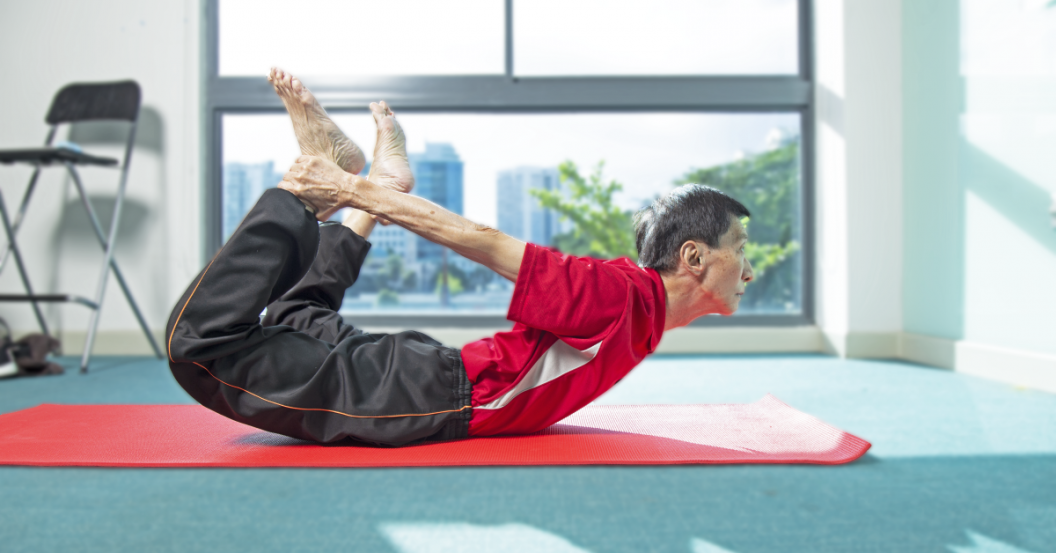 For those with a preconceived notion of what yoga practitioners look like, you'd be surprised if you met Andrew Lau. At 75 years old, this unassuming senior is a certified yoga instructor. What's even more remarkable is that he started practising Hatha yoga only 13 years ago, at 62. Now, he teaches the discipline to students from all walks of life, and is an example of where perseverance and passion will take you.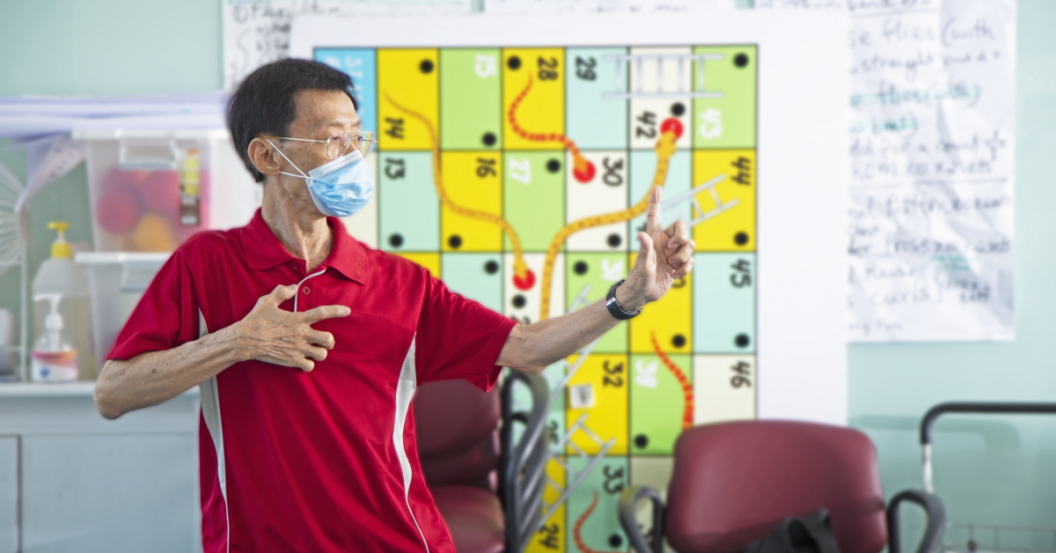 Apart from yoga, Andrew also practises tai chi and Ba Duan Jin, a form of qigong. 
"These three disciplines come from the same ancestral theory. They train both the mind and body. That's what attracted me to yoga — because it involves the mind. Your mind tells you what to do first." 
For Andrew, yoga is as much a mental discipline as it is a physical one. "Yoga makes you more alert, and gives you more focus. You don't panic easily. We learn meditation in yoga too, and that keeps the body calm."
He points out though that yoga has physical benefits, especially for older folks. "If not for yoga, I think my health would suffer," he says. "And I don't know about now, but before, my students used to tell me I don't look my age… but maybe because I dyed my hair," he laughs.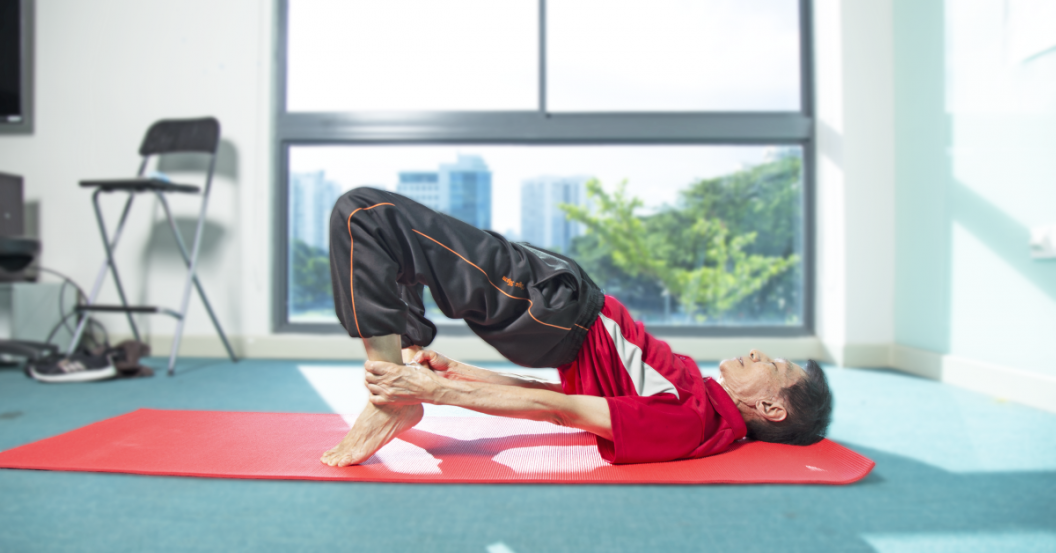 Yoga Encourages Focus And Discipline
Andrew, who worked as an office accountant for most of his professional life, retired in 2000. After finding himself at a loss on what to do next, he gravitated towards yoga, which piqued his interest when he was in his 20s.
"It was a very long time ago. Our community centre was offering yoga classes, but it was mostly women who attended, so I didn't follow up after that. Surprisingly, though, the instructor was male."
He didn't quite forget about his interest in yoga, and when he retired, he decided to finally take it up.
It could be attributed to his accounting background, but his approach to yoga is logical and methodical: "I followed instructions, learned not to fall, to listen to my body. Then gradually increased the intensity as I gained confidence."
He admits he had some qualms at the start. "When I first started, I was afraid I'd break my bones!"
Regular practice instilled in him the discipline and focus to be good at what he does. "You can never really run away from practice, in order to do it well," he says. This could very well be a guiding principle for him because three years later, he got his certification and started teaching.
He also doesn't think it's a big deal that he's a late bloomer yoga instructor. "You know the way to teach? You just carry on, lah!" he shrugs. 
The key to Andrew's success is the commitment to keep pushing. "I think you need the passion to carry on. In fact, when I enrolled, I was given a contract to sign that I shouldn't teach outside for monetary gain. And you've got to commit to two years of voluntary service… I'm well beyond my two years," he laughs.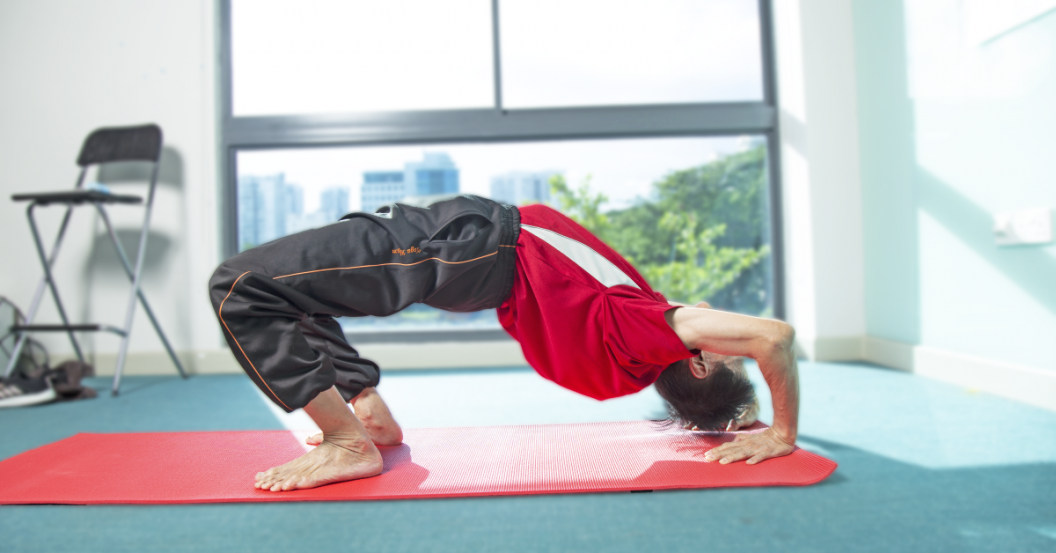 Keeping Active Through Volunteering And Teaching
Aside from his yoga classes, Andrew is active at the ComSA Club, where he volunteers several times a week. "At ComSA Club, we try to encourage the seniors to meet and be active, so they wouldn't be idle and do nothing," says this grandfather of twins.
As part of the ComSA club, Andrew and his friends meet regularly for a ground-up programme, in which seniors living in Whampoa identify the challenges of ageing, participate in workshops aimed at tackling these issues, and propose solutions for their fellow seniors.
Andrew volunteers at four community centres, teaching a mix of beginners and intermediate students. He also helps conduct workshops for those who want to learn how to teach yoga.
"Different centres, different numbers, because it's all based on registration," he says when asked how many students he currently has. He adds that as a policy, they don't turn away those who express an interest.
"Many people register, and the classes are packed at the start. But we let them in because we know that people drop the course. They register because it's free but they don't even know if they're interested or not."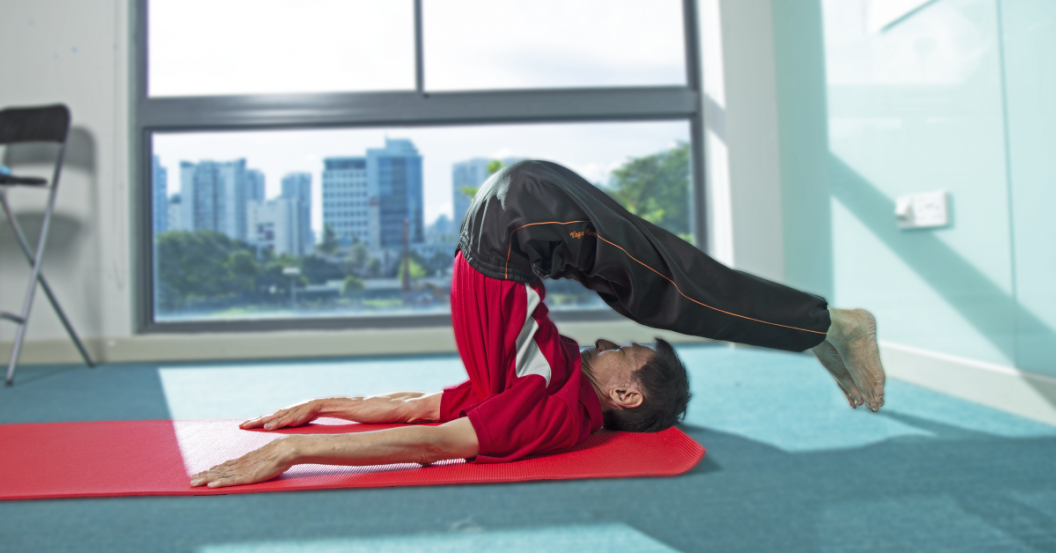 Benefits Of Yoga For Seniors
Those who continue have reaped the benefits — and many are surprised that they can do the poses that they're taught.
 
"We don't give them difficult poses," Andrew explains. "Especially at our age, it's not the difficult poses you need to master. You want to be able to move your joints, you want your ligaments and tendons aligned so your bones move well. All the joints, the moving parts should move as they should. It's really the functional movements that we're encouraging," he says.
 
His students vary in age, though most are in their senior years.
He encourages more seniors to take up yoga, to help balance mind and body, improve sleep and strengthen the muscles: "For someone who doesn't exercise much, yoga will help you move your joints, your ligaments, and tendons. The legs get old first. That's when you know you're getting old, when you start having a hard time moving. So it's very important to maintain your knees. Exercise, but not to the extent of overdoing it."
He adds: "At least, from 11pm to 3am, you must make sure to sleep soundly, because this is the time that your internal body detoxes, clearing out all the toxins."
With his full work schedule, what does he do on his free time? Apart from trying to keep up with his three-year old twin grandchildren, he likes going to Chinatown for weekend breakfasts.
 
Not surprisingly, Andrew also likes training his mind. "I actually spend quite a bit of time on my phone to play Sudoku," he laughs. Even in his leisure time, Andrew is all about balancing body and mind.