(This story is from our archives of NextStep Magazine. The Magazine has since been renamed to AIC With You)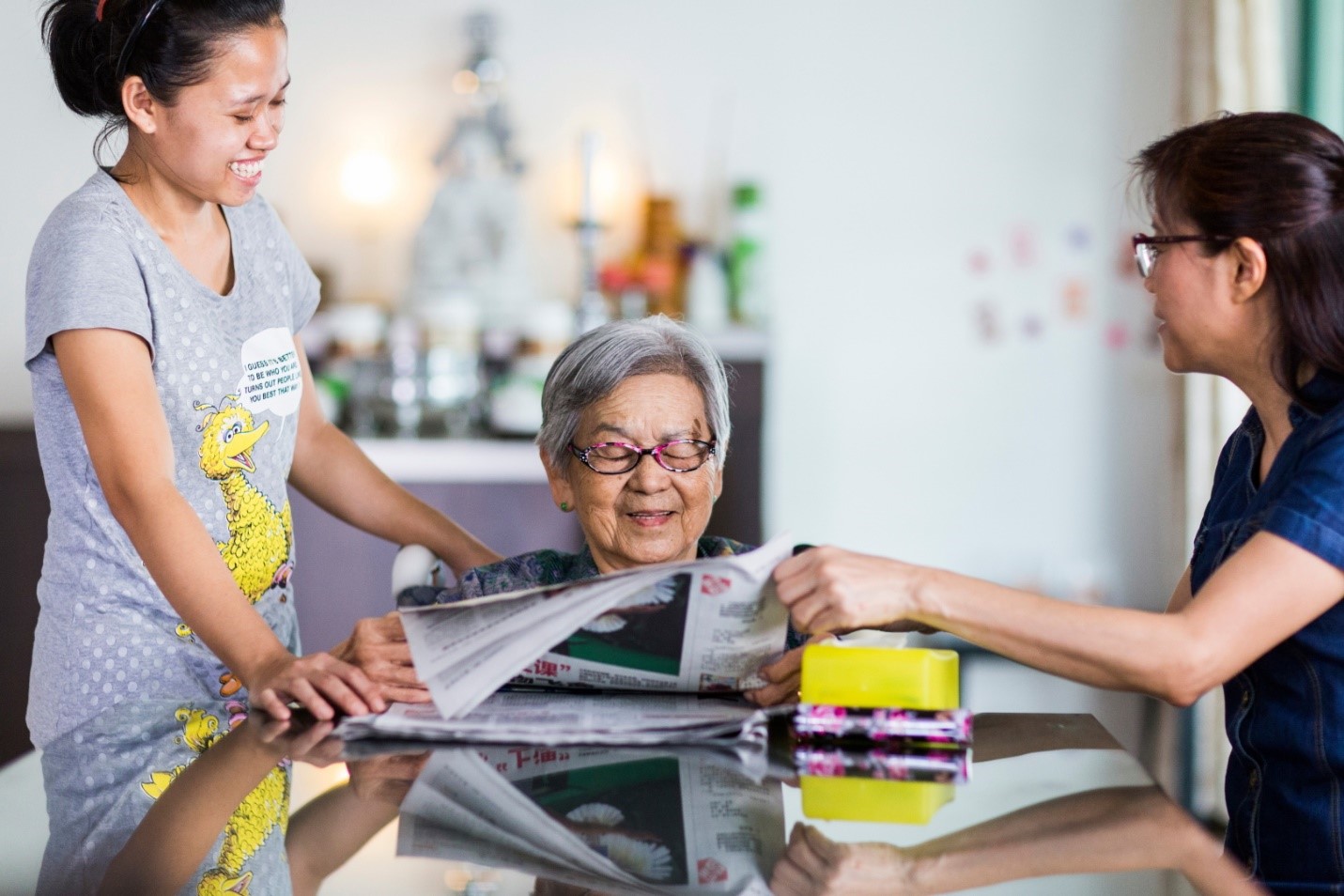 After her long-time maid left, housewife Anna Lim struggled to find a replacement. On top of chores in their Thomson house, the helper had to take care of the elderly Mdm Tham – Mdm Lim's mother-in-law – who is wheelchair bound and needs help with her everyday activities, like showering and using the toilet.
Mdm Tham, who is part of the Pioneer Generation, also has high blood pressure, diabetes and a thyroid condition, and needed to watch her meals and medication very carefully.
"It was so difficult. You have no idea how stressed I was finding a good maid," Mdm Lim says. So it was a huge relief to Mdm Lim when she found 26 years old Isah.
New Maid's Caregiving Challenges
Isah previously worked in Taiwan, so she could speak Mandarin. And she liked caring for old folks - her former employer was an active, elderly woman who enjoyed shopping and strolls.
"I can tell she has a heart for old folks, she really cares for them," says Mdm Lim.
However, Isah had no experience taking care of a wheelchair-bound senior. For the first few months, she was fearful of lifting up the heavier Mdm Tham when the old lady had to be transferred from her wheelchair to another chair or bed.
Isah's discomfort rubbed off on Mdm Tham, who complained when Isah was supposed to help her with her joint exercises. As a result, the old lady's exercises became less frequent.
Training Grant
Six months into Isah's employment, Mdm Lim applied for the Caregivers Training Grant, which subsidises the cost of signing up for a course for Isah to learn basic caregiving skills at home.
These training sessions are tailored to each family's needs when conducted at home, such as if the senior is bedridden or needs nursing care, as well as on the layout of the house.
There are also courses conducted in the trainers' centres, where the maids can pick up skills in a classroom. The centres may have miniature kitchens or bathroom settings for hands-on demonstrations.
For instance, families in bigger homes like Mdm Lim's often make room for their care recipients on the ground floor so they do not have to climb the stairs, but the care recipient may need to be carried a distance to the toilet.
The trainer would look out for obstacles that may be dangerous to the caregiver or care recipient, such as furniture that gets in the way of a senior in a wheelchair, or raised flooring that needs ramps.
Isah was also advised to talk to Mdm Tham more and treat her like family. "The course is helpful," says Isah. "Previously, I had never taken care of someone like Grandma, so I was worried. I was afraid that Grandma would fall down."
A Course for all Families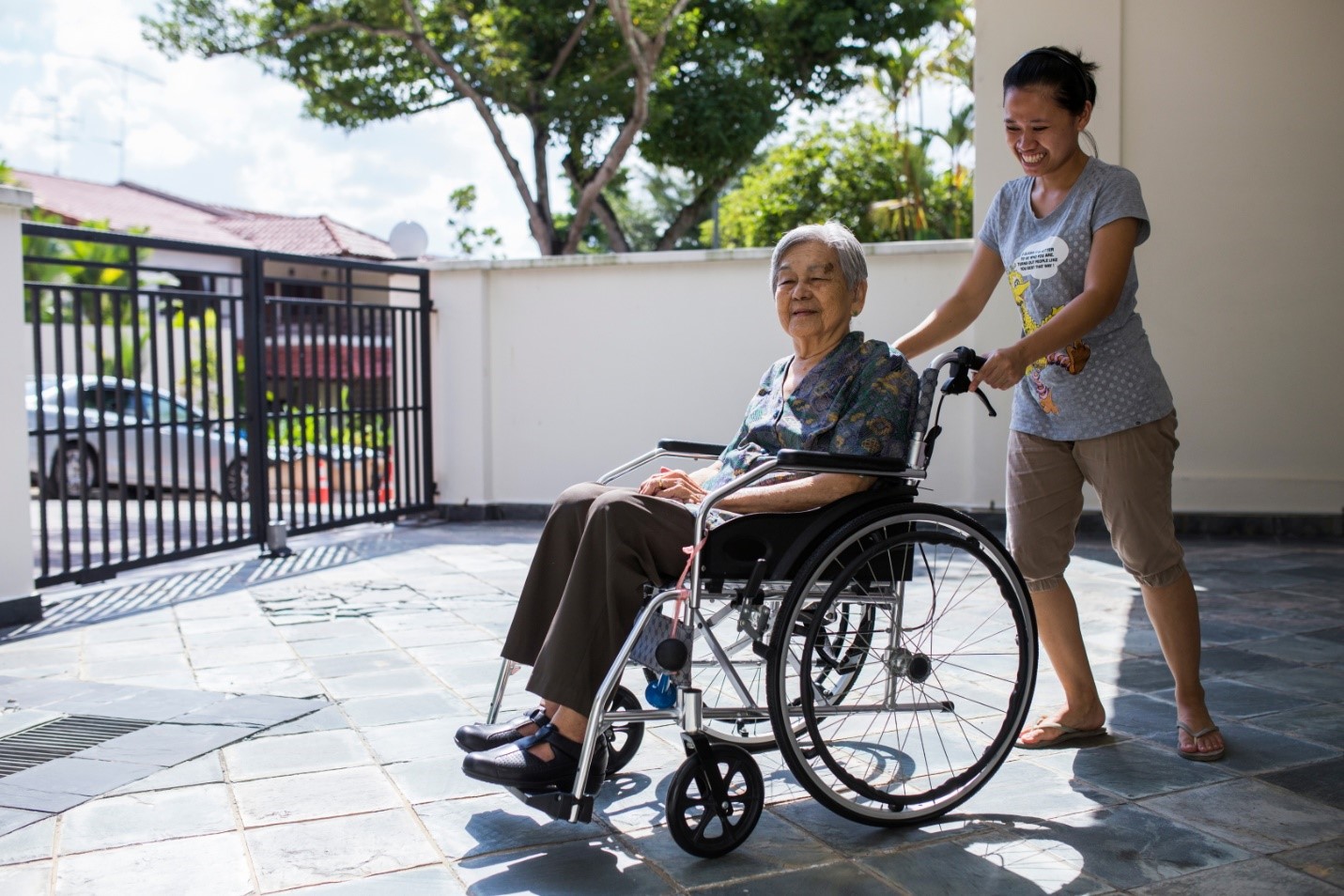 Knowing the safe way to care for elderly members of the family is important to ensuring they can stay safe at home, where they can age happily surrounded by their loved ones.
Mdm Lim recounted how a previous helper gave up after struggling to lift her mother-in-law: "You might drop the senior if you're not careful, and if she falls and hurts herself it can be very serious."
Mdm Lim's family is exploring other schemes to support caring for a senior at home, such as the Foreign Domestic Worker Levy Concession for Persons with Disabilities and the Pioneer Generation Disability Assistance Scheme (PioneerDAS). But she also noticed that not many people she knows have made use of the Caregivers Training Grant and other schemes to pick up such important skills.
So she has been sharing the benefits of such training with others. "Not many people are aware of it," she says. "The rag-and-bone man who works in my estate asked me about caring for a senior, because he has an elderly person at home too. I told him about the grant, and he's very keen to sign up for it."
Find Out More
Here are some financial schemes that families caring for seniors will find useful:
1. Caregivers' Training Grant What is it: Receive $200 annual subsidy that lets caregivers attend approved courses to better care for their loved ones.Click here to read more.
2. Foreign Domestic Workers' Levy Concession for Persons with Disabilities What is it: Reduce the monthly foreign domestic worker levy to $60 from $265 if you have a senior at home needing help with one or more activities of daily living (including bathing, dressing, feeding, toileting, mobility and transferring). Click here to read more.
3. Pioneer Generation Disability Assistance Scheme What is it: Pioneers who have limitation on three or more activities of daily living can receive $100 a month for their expenses. Click hereto read more.