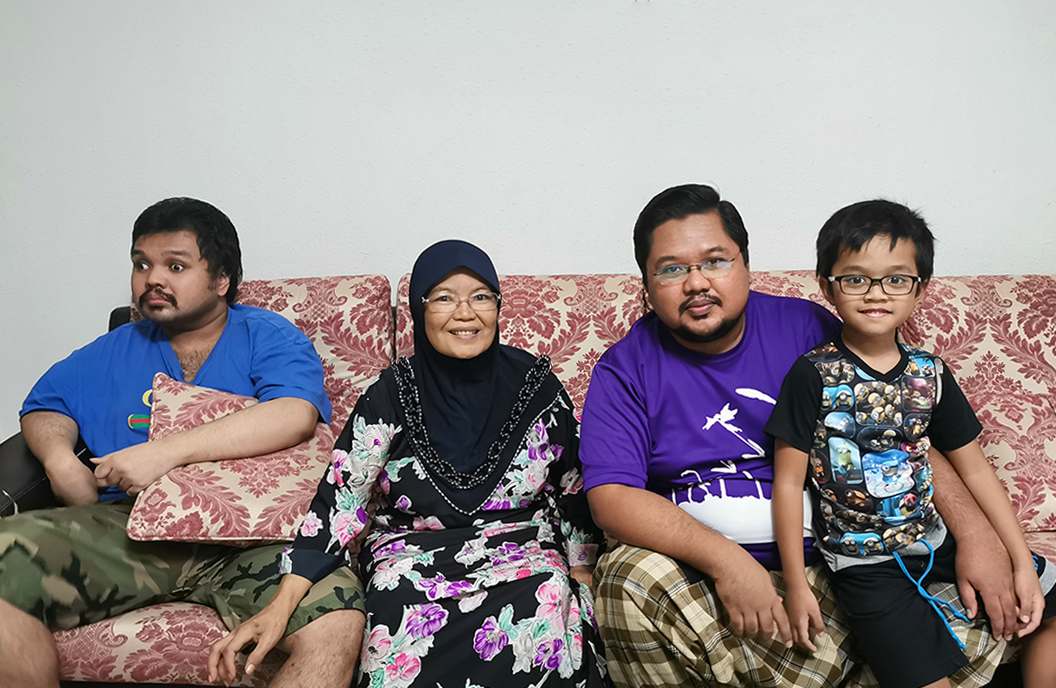 Imagine having a lifelong dream, but not being able to fulfil it because your family's needs come first.
It was this sense of responsibility towards her younger son, who has special needs, that made Mdm Serwati hold off on her wish to go on a pilgrimage (Umrah) to Mecca.
The 64-year-old's wish finally came true in September 2019, when she took a 12-day trip with her younger sister and niece. All this was made possible through the intervention by the Silver Generation Office (SGO), who got to know about Mdm Serwati's caregiver responsibilities and her family through a chance encounter.
Under the CNS initiative, seniors are connected to active ageing programmes, befriending, and care and support services. CNS brings government agencies and partners, such as SGO, together at the local community to support seniors in living well and ageing gracefully.

Family Always Comes First
Mdm Serwati's 38-year-old son, Mohamad Syahid, said his mother was worried because the pilgrimage would take approximately two weeks. The elderly lady fretted that the rest of her family could not manage caring for her younger son, Saiful Azfar.
"I have always wanted to go on this pilgrimage," Mdm Serwati, a retired postal worker, said in Malay. "But I worry if I go, who would take care of Saiful?"
Saiful, who is 30 this year, has autism and epilepsy. His care duties used to be shared between Mdm Serwati and her niece, and before that, with her late husband. But after her husband's passing, and her niece moving out of the house, Mdm Serwati became her son's main caregiver.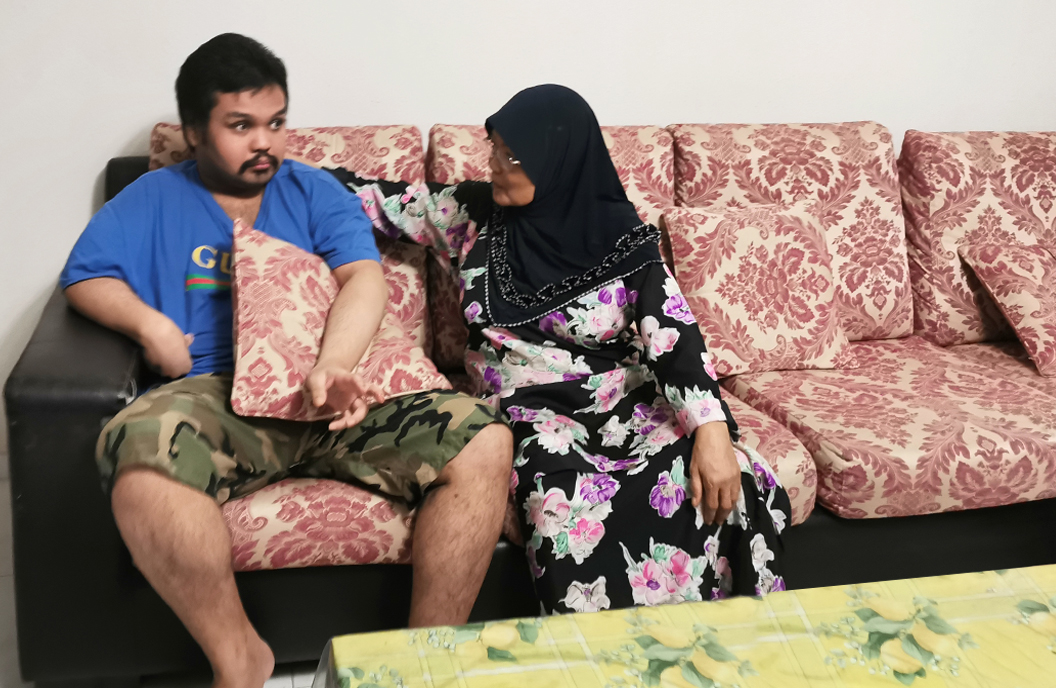 Syahid rallied hard for his mother to go for the trip, and tried to convince her that Saiful will be in good hands when she was away.
She finally relented and made arrangements for the trip, but as the date grew closer, she started having second thoughts. With that, some misunderstandings between Mdm Serwati and Syahid developed.

Health Screening Led To More Help
The SGO team found out about Mdm Serwati and her family's challenges after the elderly lady took part in a Functional Screening at the Toa Payoh Community Centre in June 2019.
While her health results were normal, she told the SGO team who administered the screening that she felt her health was neglected.
SGO team member followed up by calling Syahid to better understand his mother's concerns. Syahid was surprised by his mother's comments, and explained that he had been encouraging his mother to go for her monthly check-ups. When he heard about the functional screening event, he "was the one who told her to go" too, he said.
During the call, he revealed that things were chilly between them due to her worries about Saiful. SGO thus arranged for a home visit to better understand the family's situation.

A Sincere Chat At Home
Shortly after that in July, SGO Staff, William Tan from the Bishan-Toa Payoh Satellite Office was chosen to meet Syahid and Mdm Serwati.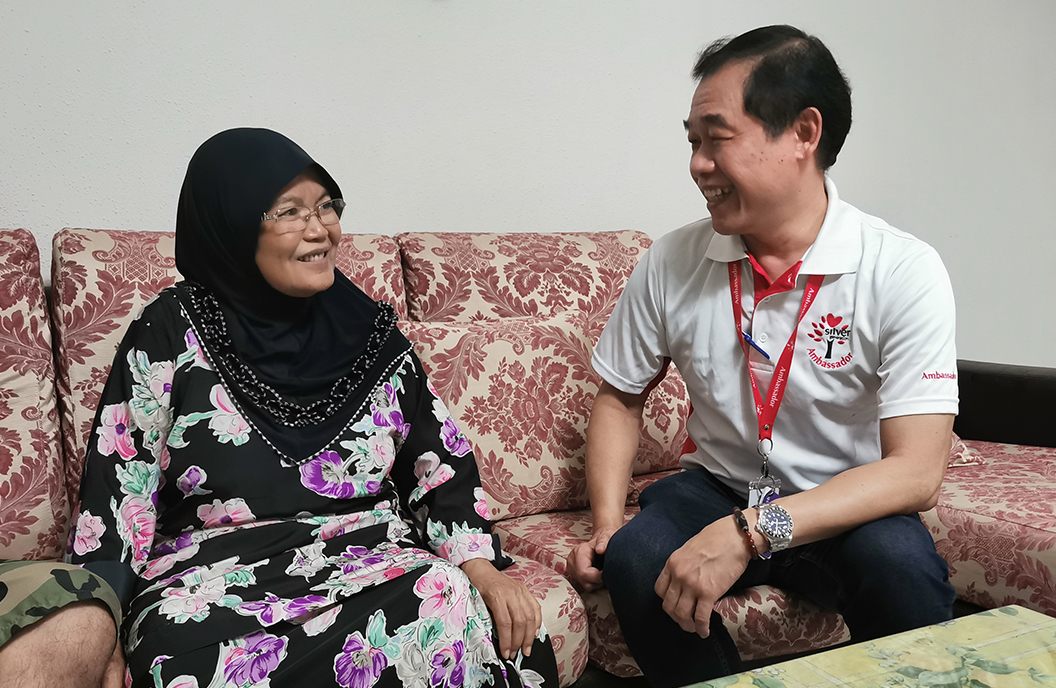 As he was fluent in Malay, William was able to have a sincere talk with Mdm Serwati.
"William is very friendly and he speaks in 'pasar' (market, or colloquial) Malay," Mdm Serwati said. "When I speak to him, it feels like I'm talking to an old friend. So it was easy for me to tell him what was worrying me."
The SGO team understood that Mdm Serwati needed more support as a caregiver, and would benefit from activities suitable for seniors like her. So William shared about the Active Ageing Programmes in her community and encouraged her to take part in them. These are activities such as low impact aerobics that keeps seniors active, healthy, and socially engaged.
SGO also offered to help link Saiful up with CNS Partner, Emmanuel Activity Centre, which provides day activities for people with intellectual disabilities. This would help reduce the caregiver stress on the family.
"As an outside party, I was able to provide a neutral perspective for Mdm Serwati's family situation," William said. "I explained to her that Syahid, despite his sometimes-harsh tone, is actually quite concerned about the family, and he is willing to take care of everything."
"In the end, after a couple of explanations, Mdm Serwati understood her son's good intentions. I also told her to not worry about her younger son at home. Syahid and the family will take care of Saiful," William added. He joined Syahid in encouraging her to go for her pilgrimage.

A Successful Trip, A Change Of Lifestyle
With her worries eased, Mdm Serwati went ahead as planned to Mecca in September 2019. The family is also in the process of enrolling Saiful with Emmanuel Activity Centre.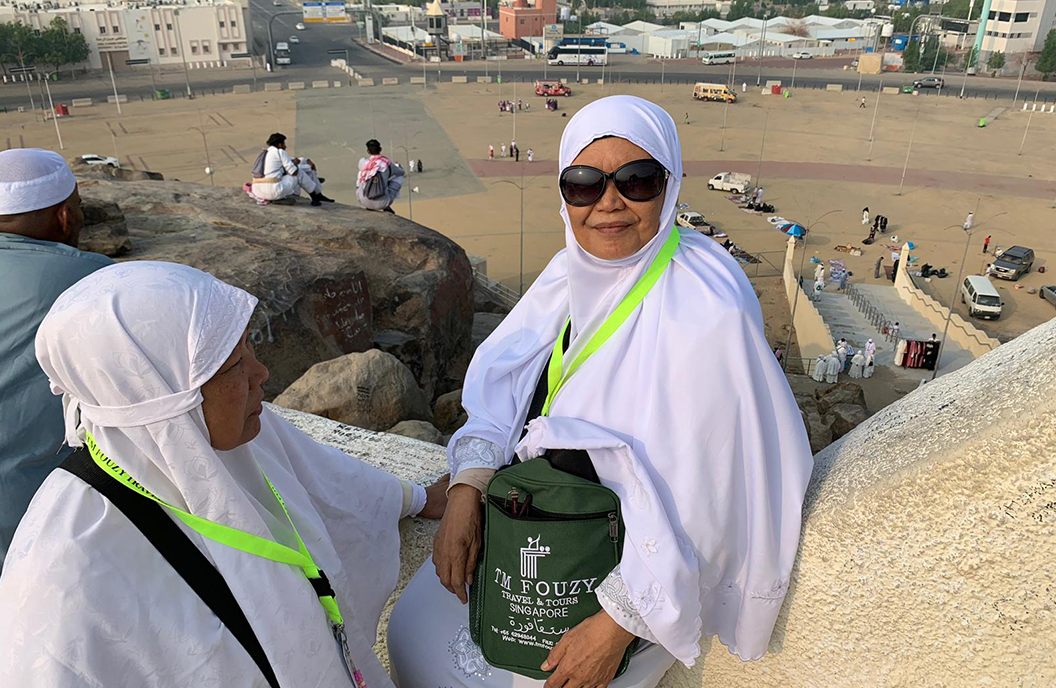 These days, Mdm Serwati seems to have a spring in her step. She is attending activities such as aerobics and tai chi every week, and her social circle has widened.
"I made new friends at the sessions. We even walk home together after class," said Mdm Serwati. "Even though some of them can speak only Chinese, and I speak only Malay, we are able to understand each other."