When we sit, stand or walk, we rarely think about how we do these actions because they come as naturally as breathing. 
But all that can change overnight. Normal everyday movements like going around the house or sitting and standing up from a chair can become challenging and frightening.
This was the situation Mr Tan Kim Hung, 88, found himself in. 
He contracted COVID-19 in January 2022, and was admitted into the hospital. His attending doctor realised that he had difficulty balancing and assessed Mr Tan to be a high fall risk.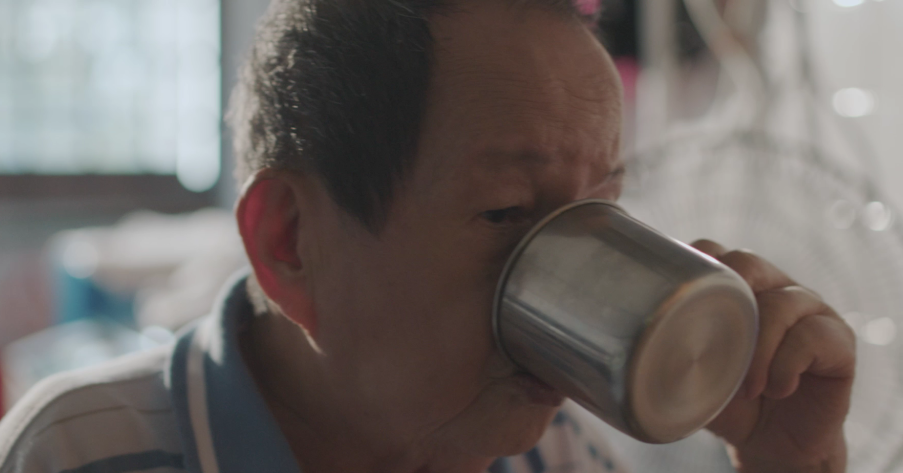 Mr Tan's family approached the Agency for Integrated Care (AIC), and they were referred to TOUCH Community Services, which put him on home therapy and Meals on Wheels (MOW). The MOW service provides meal deliveries to homebound clients who are unable to buy and prepare their own meals and do not have a caregiver to help them to do so.  
"I had difficulties walking, and it's quite a distance from my house to the food centre. By the time I reach home with my food, it's cold and not as delicious anymore," explained Mr Tan. 
A Simple Life
Prior to his diagnosis, Mr Tan led a pretty active lifestyle. He would wake up at 5.30am, go for a walk, and head home for a cup of coffee. Walking was one of his favourite pastimes. 
"I'd go to the pasar (market), see what's available there, have a bite, and then continue walking after," he says. His visits would end with him indulging in one of his favourite foods: char kway teow or prawn noodles. He would also pick up groceries to cook at home.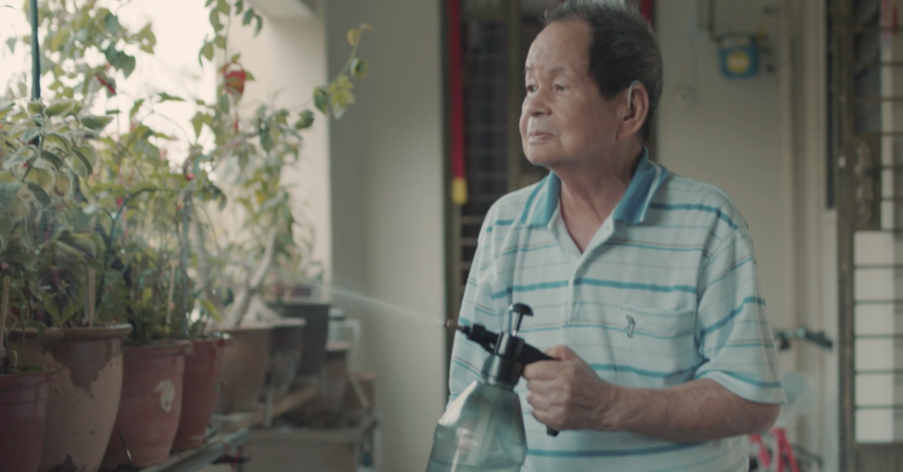 His loss of mobility dealt a blow to him. He used to take the train or bus using his senior citizen concession card from Jurong East to the east, such as Tampines, to visit different eating places. By the time he recovered from COVID-19, he was finding it difficult to walk from one bus stop to another.
Now, Mr Tan is temporarily receiving meal deliveries from MOW as he is slowly but surely gaining back his mobility through regular physiotherapy sessions at home.
Learning To Sit And Stand Again
Once a week, Ms Joan Muk, a physiotherapist from TOUCH Community Services, would visit him to help him improve his balance and endurance, so he would be able to stand and walk steadily.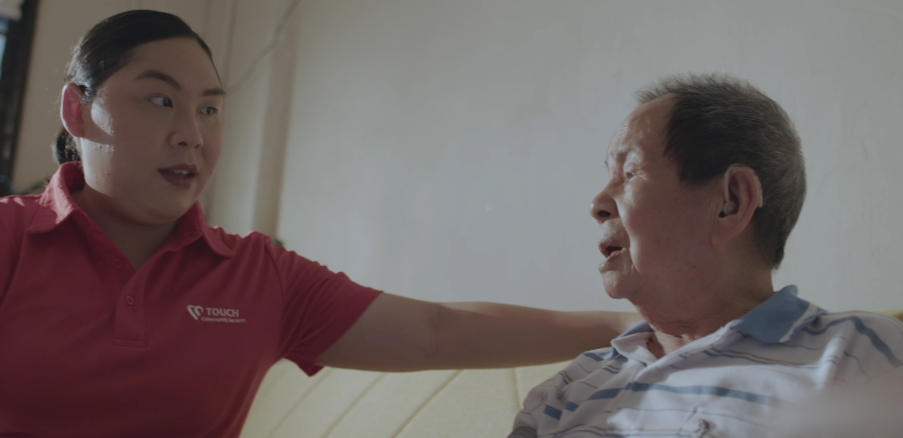 "In home care, we get to continue their rehabilitation journey after they are discharged from the hospital. We assess their situation, and work with them and their caregivers to plan the sessions that best suit their goals," says Ms Muk.
Ms Muk recalls her first visit to Mr Tan: "When I first came to see him, I noticed that he had some difficulty getting up from his chair to come and open the door for me."
Despite Mr Tan's balance and mobility issues, Ms Joan's assessment is promising. "He actually has good strength. His main problems stem from his balance issues, which arose from a previous mini stroke and that, in turn, affected his ability to coordinate his muscles to perform a certain movement."
On the list of Ms Muk's priorities for Mr Tan is to ensure he could safely perform his day-to-day activities, such as walking around the house and other Activities of Daily Living.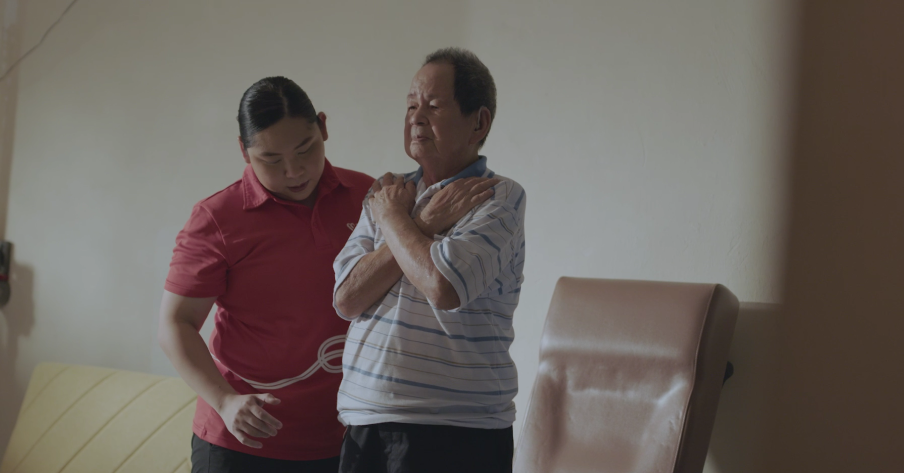 She recommended a geriatric chair for Mr Tan to use, instead of his foldable recliner. Geriatric chairs are higher in height and more stable, making it easier for a senior to sit and stand, and reducing fall risk.
Overcome Fear And Learning To Balance
The goal of Mr Tan's home therapy sessions is for him to regain his independence and confidence. "What we are hoping to achieve is for him to be able to go out of the house on his own, or even to walk longer distances. This is so that he can accompany his family to go on outings, which is important for him because it's a social activity that he treasures," says Ms Muk.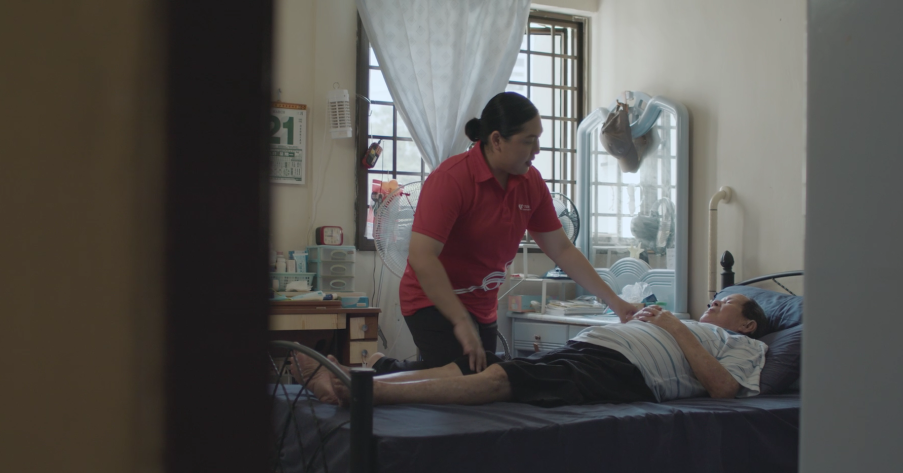 Ms Muk admits that she faced some resistance from Mr Tan initially when she first started the home therapy sessions. He even asked how the exercises she introduced to him differed from the usual movements he did. One way she gained his buy-in was by educating him on how different exercises target different functions.
He was also apprehensive about executing the balance exercises, which required him to put his feet together and close his eyes.  
"When I first did the exercise, I was really scared, I felt like I would fall over," Mr Tan says. 
Eventually, he was able to overcome his fear and gained more confidence. "The second time, I felt better doing it." 
An Ongoing Journey
Although Mr Tan is still undergoing therapy, he has come a long way since Ms Muk's first visit. She noticed that his main source of motivation was his family members.
"When his family is around, I could see his face brighten up. And he was more willing to do the exercises, especially when the family members encouraged him – even the challenging ones that he previously refused to do," she says. 
Mr Tan's progress has proven that with the right exercise and guidance, a senior can gain back their independence and improve their quality of life. 
"I need to exercise more so I can go take a walk more often. When my legs are better, I can stay out longer, and explore more good food."

Editor's Note: AIC's interview and video production with Mr Tan and Ms Muk took place in March 2022 and is accurate as of the time of the interview. Mr Tan recently underwent a surgical procedure and will resume his home care services, where he will continue to rebuild his mobility and independence.