Nursing Home Keeps Seniors Motivated with 'Jobs'
Some seniors may not be able to do things as quickly as they used to, but it does not mean they should do nothing because of their age.
This belief inspired Bright Hill Evergreen Home (BHEH) to assign 'jobs' to some of their residents so that they can stay active and occupied around the Home.
One of their most hardworking residents is 69-year old Rose How, who is stationed outside the staff toilet every morning. Why? It is part of her duty to collect a five-cent fee for each use of the toilet. As the Home's Toilet-In-Charge, no one slips past her eagle eye. At the end of her shift, Rose would carefully count the coins she collected in a box and record the amount in a ledger. The staff would collect the coins and place them in a common staff fund.
Rose also takes attendance of fellow residents when she goes for group physiotherapy sessions, as well as tutors a fellow resident. For three days a week, Rose teaches 56-year-old Lim See Ee, who has a developmental disability, basic Math and even sets homework for her to do.
Ever since she started her additional duties, the Home's staff noticed a more cheerful Rose. While she used to keep to herself, Rose now high-fives the care staff when she passes them, and is often seen chit-chatting with fellow residents.
What could be the reason for her change in behaviour?
BHEH believes that by empowering its residents, the seniors are not only physically and socially engaged, but they also find a purpose in life. That was the foundation on which the Home's Dignity of Care (DOC) programme is built. The project aims to improve the culture of care by stressing on the importance of treating people with dignity and respect.
The 248-bed nursing home rolled out the programme in 2016 and roped in consultants to create more person-centred care support. The consultants work with the BHEH care team on ways to stimulate residents based on their strengths and physical abilities. One of the programme's features is to identify residents who are mobile and give them tasks to do so that they can be engaged meaningfully, like Rose.
"I used to feel lonely and think that no one understands me. Now, I look forward to my duties every day. My favourite is teaching See Ee, I feel that I'm doing something important," said Rose.
The 10-year resident of BHEH isn't the only one who holds a job. 91-year-old Goh Ah Huan also has a special duty. BHEH came up with a task that is suitable for his physical ability and his meticulous character.
The retired taxi driver, who has been a resident of BHEH for four years, helps with cleaning and drying cups, a task he takes seriously.
"When I was driving a taxi, I worked for many hours every day. When I first came here, I was not used to sitting around doing nothing. Now that I have a job to do, I feel so much happier, because I feel needed and respected. No one can clean the cups as quickly and as well as me," said Ah Huan proudly.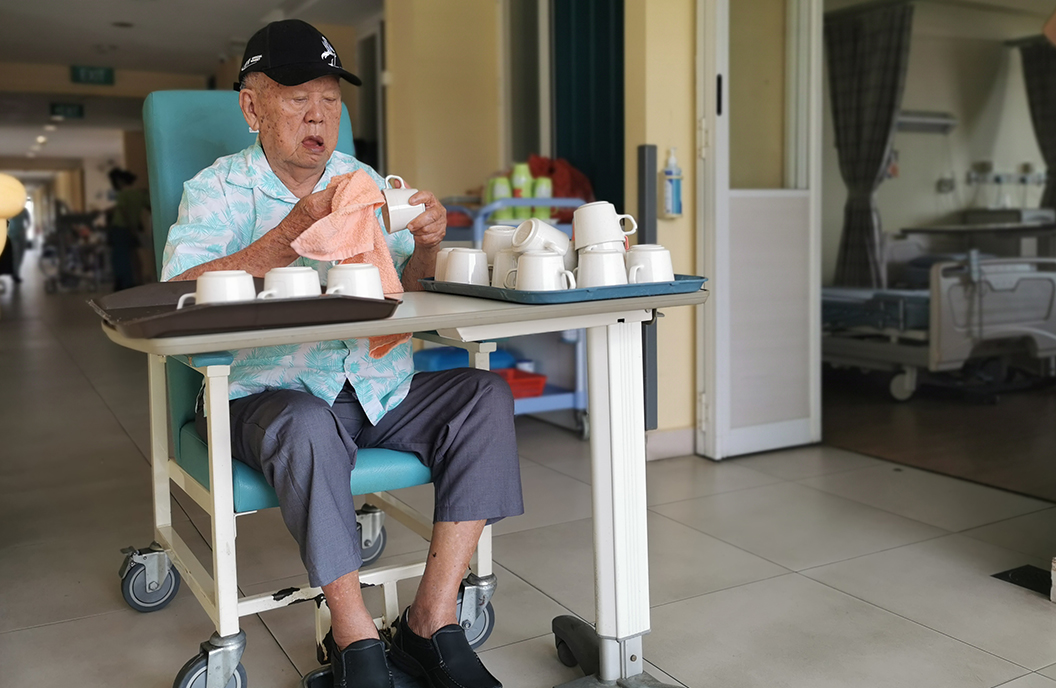 Since starting his job duty, the once impatient senior is a lot calmer now, and often sports a smile.
Ms Cheng Siok Khoong, chief executive officer of BHEH, said the seniors with these special tasks have become happier – they are more sociable, and their sense of wellbeing has improved. "They also have a positive impact on other residents, who also want to have special jobs to do too," she added.
The Home currently has five residents holding special tasks, including a make-up artist and a mediator, who is called upon to help when there are misunderstandings between residents. The Home plans to continue expanding this programme of bringing dignified care to its residents.


How to apply these principles at home
You can practise BHEH's Dignity of Care principles at home too, by following the ABCD of Dignity - Attitude, Behaviour, Compassion and Dialogue. This was coined by Canadian psychiatrist Harvey Chochinov, who specialises in palliative care.
As a caregiver, having a positive attitude and behaviour go a long way. Think of your loved one as your partner in their caregiving journey. Rope them in to carry out some of their daily routines instead of doing everything for them, such as feeding. Your loved one may take some time to do so, but with encouragement and patience from you, it can boost their confidence and make them feel they can do more.
Instead of telling them what to do, involve your loved ones in deciding how the chores can be done. Take the task of folding clothes, for example. Ask them where they prefer to do the folding, and you can arrange a comfortable space for them to do it, be it the sofa or bed. Showing compassion and having a dialogue with your loved ones can help give control and meaning back into their lives.