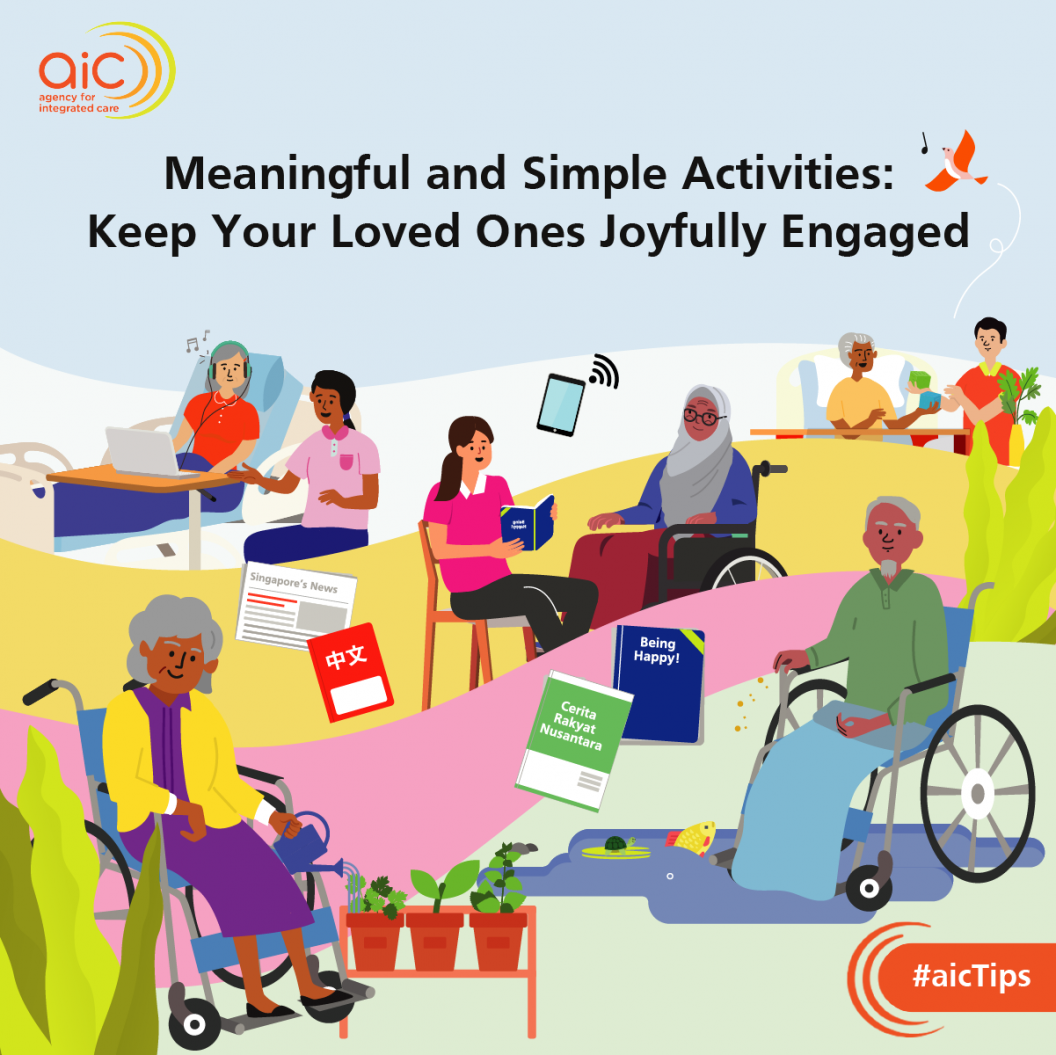 Spending time with people we love makes life meaningful – even if it is just taking part in simple activities together. 
With the intention of bringing loved ones together, including seniors with higher care needs,  the Agency for Integrated Care (AIC), in collaboration with Singapore Institute of Technology has developed the Joyfully Engaged Toolkit. 
Although many seniors with higher care needs require help in most of their daily activities (e.g. feeding, transferring), taking part in activities can still provide an avenue to enhance their physical, emotional and mental wellbeing. 
The activities suggested in the toolkit, categorised broadly into four topics, are not physically demanding, and do not take long to complete – perfect for seniors requiring activities of shorter duration and for caregivers with a busy schedule. Find a few you can start doing today!
Digital
Listening to music – especially classic tunes that seniors are familiar with - can evoke pleasant memories and promote reconnections with the past. Playing instruments along with the music can also encourage movement and keep joints nimble. 
If music is not your senior's cup of tea, why not try audiobooks or watching videos together. Finding out more about the book or movie chosen can also provide opportunities to get to know each other better. 
Flora & Fauna
Do your loved ones have green fingers? Consider activities such as floral arrangements, caring for plants, or even bedside gardening. Horticultural therapy has been proven to have multiple benefits, including encouraging positive connection with nature and promoting fine motor skills. Plus, thriving plants are a great décor for your home! 
If you have pets (such as terrapins, fishes, etc) at home, caring for them (such as, feeding the pets) together also fosters enjoyable experiences and develops new treasured memories.
Arts & Crafts
One of the latest trends these days is clay sculpting. People can use clay to make earrings, trinket dishes, and many other knick-knacks. But that's not all. Such art projects can be therapeutic for everyone, and also unleashes creativity. Check out the clay sculpting activities in the Toolkit!
Stimulative and Sensory
Many of us long for a massage after a hard day at work, it is relaxing and soothes tensed muscles. A simple and gentle hand massage with lotions can improve your loved one's mood, strengthen grip, and lessen pain – particularly for seniors with arthritis. Do remember to ask your seniors what they think and like!
If you are looking for a game that can be stimulating to the mind, try playing cards together. Games may include "Poker" or "Bridge", or be a more therapeutic sorting of cards into their suits and arranging them in chronological order.
For loved ones living with dementia, consider doll therapy. While not for everyone, research has found that engaging (combing their hair, etc) with dolls (this may include stuffed toys such as cats, dogs, etc) can reduce levels of anxiety and agitation in some seniors, boosting social interaction and communication skills. 
These simple activities do more than just keep your loved ones engaged. They also provide opportunities to spend more quality time together. Find out more tips on engaging seniors with higher care needs in the Joyfully Engaged Toolkit!
Wellbeing Principles: Five Ways to Wellbeing by the United Kingdom's New Economics Foundation
Activities in the Joyfully Engaged Toolkit have been curated by taking guidance from the following wellbeing principles adapted from Aked, J., Marks, N., Cordon, C., & Thompson, S. (2008). Five ways to wellbeing: The evidence. London: New Economics Foundation
Connect - encourage social interaction between seniors and their community for support
Be Active - enable seniors to take part in activities that are relevant to their fitness and mobility levels
Take Notice - provide opportunities and experiences for seniors to appreciate and reflect on what matters to them
Curate Activities - enable seniors to be physically and mentally stimulated
Foster Situations -  enable situations for seniors to be engaged purposefully to cultivate more positive self-esteem
Since 2014, the AIC Wellness Programme has been developing evidence/interest-based activity resources for frail seniors and their caregivers. Please visit https://www.aic.buzz/activity-booklets to download a full range of toolkits and guides.