Since she retired as a clerk, an average day for Mdm Leong Foo Keu, 69, included a visit to the GoodLife! (Programme by Montfort Care) Senior Activity Centre near her home in Marine Terrace for exercise. Afterwards, she would drop by the supermarket for groceries, calling on friends along the way. If she had time, she would pay a visit to her beloved 2-year-old grandson.
During Circuit Breaker, she was able to continue doing most of the activities she enjoyed, even though she stayed home. Her 'secret'? Taking a crash course in digital apps like Zoom web conferencing tool, WhatsApp calls, YouTube, and even Instagram.
Far from feeling isolated, Mdm Leong says her days have been productive: "I spent most of my time at home doing activities to avoid thinking too much. You have to stay active during the day, and sleep well at night. So far, I'm doing well."
Amid Crisis, A Digital Opportunity
At GoodLife! Senior Activity Centre, Mdm Leong is one of the centre's 'star pupil' who has adopted to technology like fish to water. 
The centre, which used to serve up to 60 seniors throughout the day, had to shutter its doors as Singapore went into Dorscon Orange. 
Senior Programme Executive, Ms Wang Zhiqian, says the staff started doing more outreach. They called up home-bound seniors who are more vulnerable to educate them on personal hygiene, and raise awareness of the virus.  
"Seniors tell us they had nothing much to do at home. It made our staff very concerned about their physical health – from exercising here with us every day to doing nothing."
The centre used Zoom for their live sessions, as the tool allowed seniors to communicate to their staff and chat with each other. Ms Wang and her colleagues became an informal 'IT Helpdesk' for their clients, providing phone call tutorials on how to use the application.
"It wasn't easy at the start, especially for seniors who don't have a landline. For instance, there was a senior who was using the same phone to try the application. She would listen to our instructions, hang up, complete the step, then call us again to find out what to do next. We had to be very patient!"
Virtual Programmes Keep Seniors Busy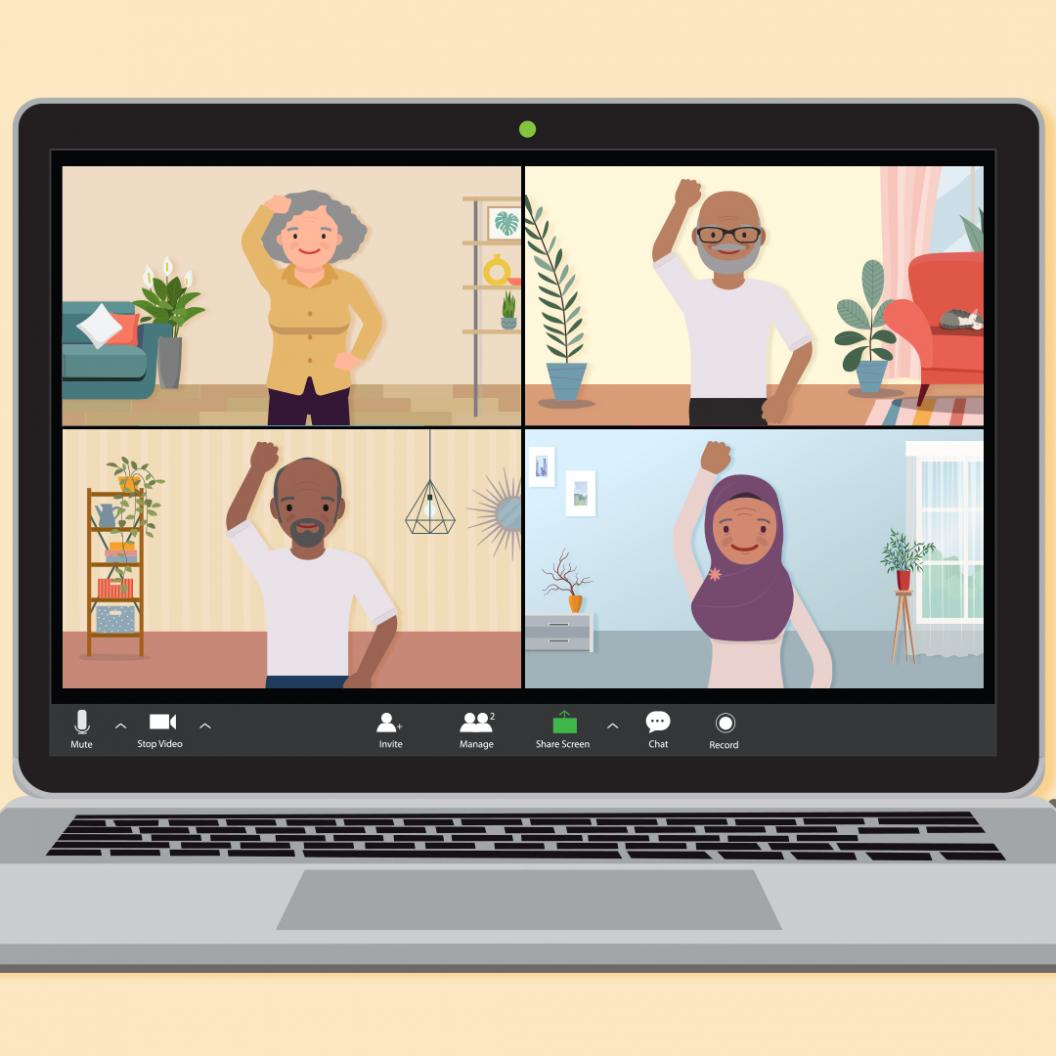 As more seniors became savvier, the centre's Zoom activities expanded to include exercises, dances, cooking, and more. Each session saw as many as 15 seniors sign in. During the school holidays, their grandchildren joined in the dance sessions, bobbing along to the routines. 
Says Ms Wang: "At the start, they were just happy to meet up with their friends. But they also gave feedback that they feel more empowered as they know they're now on a par with trends, like knowing what Zoom is." 
As the centre resumes activities slowly in Phase 2, Ms Wang expects the virtual activities to taper down. But if seniors continue to show interest, they may keep some sessions going.
Mdm Leong enjoyed her online experience, but nothing beats the joy of going out with loved ones. 
"When things go back to normal, I'd love to be able to play with my children and grandson at the pool. And to meet my friends and go shopping together."
Youth Volunteers Visit Nursing Home Virtually 
When visitors were no longer allowed at nursing homes during the Circuit Breaker period, Thye Hua Kwan Nursing Home (THKNH)'s Chief Executive Officer (CEO), Mr Ardi S. Hardjoe, like many care providers, faced the challenge of finding ways to keep his residents engaged.
Days that used to be packed with activities and events had turned quiet. 
"The whole idea is to make their day meaningful. It's important to keep them engaged, so their mental health doesn't get affected." Mr Hardjoe says.
Youth Corps Singapore has been collaborating with THKNH under YOLDEN (Arts) programme since 2018.  When volunteers were no longer allowed into nursing homes during the Circuit Breaker period, the team at Youth Corps came up with a novel solution. Through a tele-befriending initiative called YOLDEN Switch, they planned a five-session programme that would connect volunteers and residents of THKNH through the use of tablets. 
For each weekly session, a small group of residents, each paired with a care staff, were seated in a room with safe distancing measures in place. Propped on the table before each of the resident was a tablet, from which the youth volunteers guided residents through a variety of activities. 
This set-up made it possible for residents to interact with youth volunteers virtually through art activities and games such as Bingo and Connecting The Dots. Residents also made "Thank You" cards for nurses as a token of their appreciation.
Yeo Jia Jia, a volunteer from Youth Corps, saw how proud the residents became when they created something to call their own. 
"During the activity, I noticed that they became more independent and confident to make their own decisions." she says. 
"They're empowered in a different way by taking more initiative on their own when given autonomy to create a different art piece every week. I think they took a lot of pride in the things they were doing."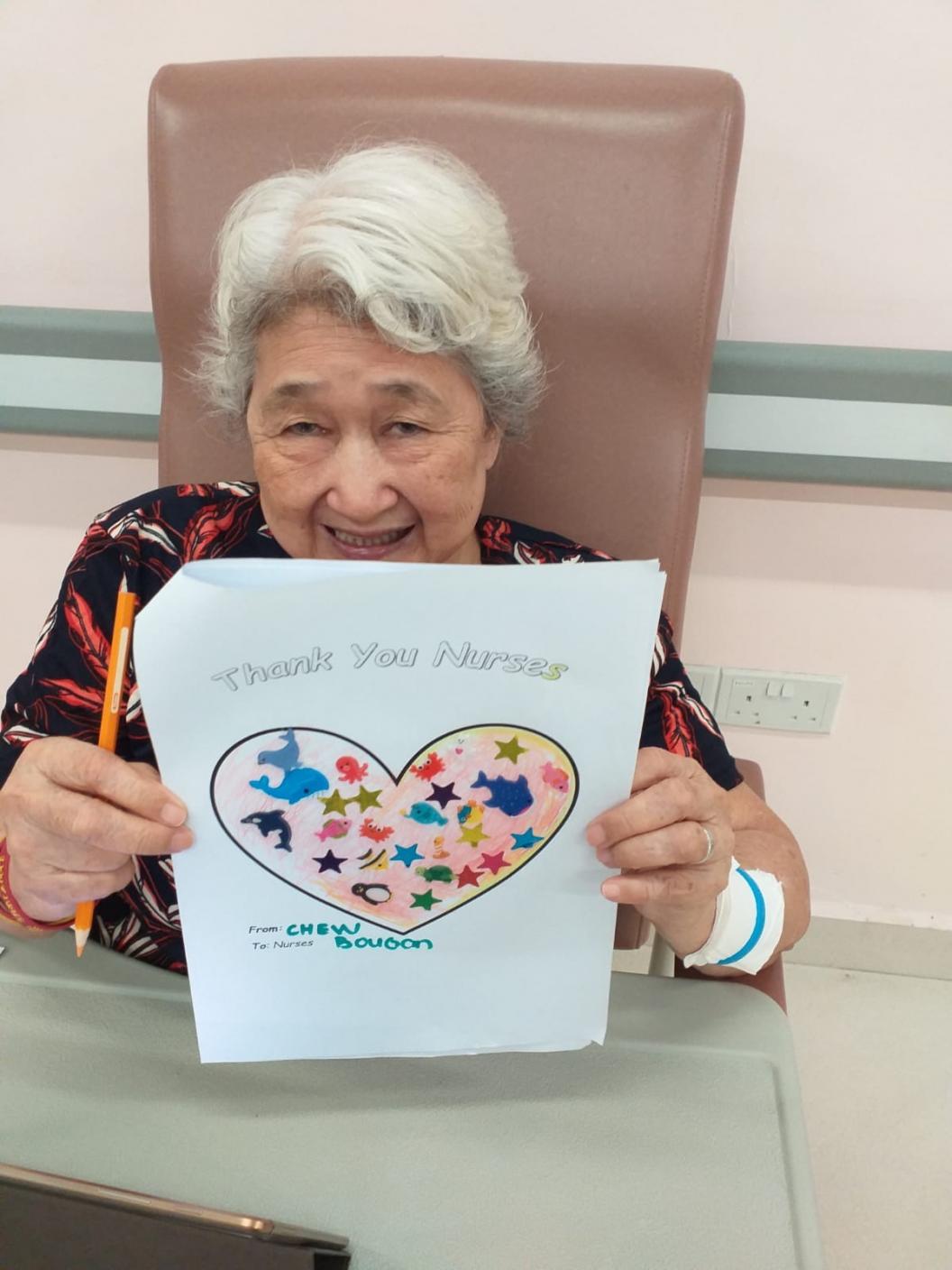 About the YOLDEN (Arts) Programme
YOLDEN at Thye Hua Kwan Nursing Home @ Hougang is an intergenerational collaboration between the Youth Corps Singapore and Agency for Integrated Care. It commenced in 2018 with the support of the National Arts Council and matches youth volunteers with nursing home residents for regular interactions through art activities.