For the people who may need it most, like seniors or those living with dementia, having a well-designed space where they can age well in place is crucial. Here, we take a look at how some communities in Singapore are designed with these residents in mind. 
For people living with dementia, a neighbourhood design that takes into account their ability to go around safely and independently is crucial. In Singapore, six in 10 persons living with dementia will wander at least once and many tend to do so repeatedly. This trend is compounded by the fact that Singapore has high-rise and high-density residential communities that look identical. 
A way to make a neighbourhood more dementia-friendly is to improve wayfinding and infrastructure design. One of the ways is through easily identifiable murals that will help people with dementia find their way around. 
Nostalgic murals at Ang Mo Kio    
Ang Mo Kio Kebun Baru was the first community to collaborate on a mural project with Dementia Singapore (DSG) to help persons living with dementia find their way around their neighbourhood. In response, the Agency for Integrated Care (AIC) established a structured process, in consultation with DSG to guide communities on mural painting projects.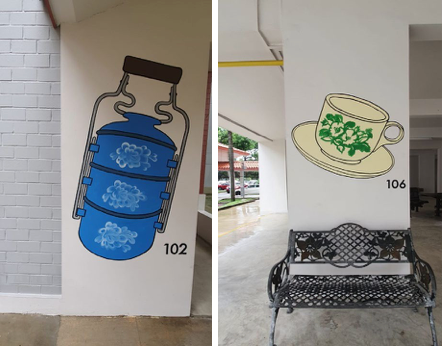 It was found that familiar themes such as local heritage, food and iconic images in simple designs and striking colours can lift the mood and help with memory. The murals should be simple and recognisable, and placed in high-foot traffic areas where they can easily be spotted.
People with dementia also often forget details of where they live, like their block numbers. So block numbers were also incorporated in the mural design. Large murals were painted next to block numbers, to help residents living with dementia associate the image with their block.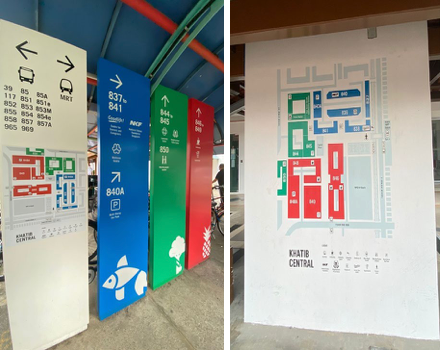 Nee Soon: First dementia-friendly estate 
The 21 public housing blocks in Nee Soon, particularly at Chong Pang and Khatib Central also have innovative wayfinding and infrastructure designs. 

In this dementia-friendly initiative, blocks were painted with colourful directional markers, and easily identifiable images and directional signages were used.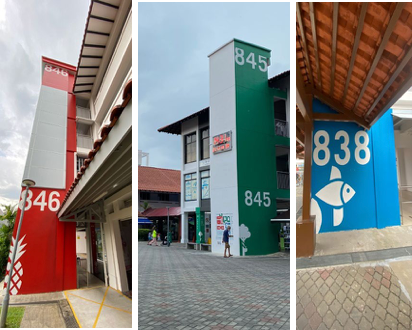 The blocks were painted in red, green, and blue to distinguish different zones within the neighbourhood. Recognisable icons such as pineapples, tropical fish, rubber trees provided visual anchors in common areas like lobbies and stairwells. These icons were based on their association with the history of the areas. Colour-coded signages pointing to nearby supermarkets, coffeeshops and the Khatib train station were also added. Other than bold colours, the block numbers are also displayed prominently in large fonts, making them easily seen and identified from a distance. 

All these were designed to help those with dementia navigate safely within the neighbourhood and surrounding areas. 
Dementia-Friendly Yio Chu Kang 2025
Yio Chu Kang is slated to be the first constituency to integrate dementia-friendly upgrades in its private, public housing estates and community spaces.        

Dementia-friendly environment designs considerations focus on accessibility, wayfinding, sensory stimulation, and cognitive aspect of limitation.

The guiding principles of this project are to (a) Improve safety and wayfinding for seniors, (b) Encourage community bonding, (c) Practicality for upkeeping and maintenance and (d) Include heritage identity in the design.         

This includes:
• Colour zoning, where residential areas are repainted with contrasting colours and enlarged block numbers. This effort will help persons living with dementia better identify the vicinity and aid in recalling their place of residence.
• Directional signage where colour zoning system will be put up prominently along commonly accessed routes to help individuals remember and recognise the blocks and key community amenities better.
• Infrastructure enhancements like levelled grounds connecting the various parts of the neighbourhood, sheltered walkways, anti-slip floor/tiles, assistive grab bars on slopes to ensure better accessibility and safety for persons with mobility devices, frail seniors and persons living with dementia when travelling around.            

Yio Chu Kang, Nee Soon and Kebun Baru are part of the 14 Dementia-Friendly Communities (DFCs) set up in Singapore. The ultimate aim is to build an inclusive society where people know about dementia and are willing to assist those living with it by making them feel included, involved, and supported in the community.

This article is adapted from a webpost note written by Nurhazimah Binte Naharudin, under the Lee Li Ming Programme on Ageing Urbanism, Lee Kuan Yew Centre for Innovative Cities, Singapore University of Technology and Design. Note 20 – Dementia-Friendly Neighbourhoods in Singapore through Infrastructure Designs and Upgrades. Click here to read.