When Stella Lin moved to Singapore with her husband in 1991, she had her life planned out – from adjusting to a new environment with her family, to climbing up the corporate ladder. But she didn't expect how differently her life would play out in just a matter of years. 
Back then, the Fuzhou native — now age 50 — had settled down in Singapore, and her career as a marketing professional was on the ascent. She was doing well in a fruit trading company, where she reached the rank of Marketing Director after 16 years with them. Despite the success, she felt she was missing out on pursuing her interests.
Sometime in 2011, Stella decided to quit her job and focus on the important things in life – her family, and chasing her passions in dance, yoga and photography. Moreover, with her mother-in-law ready to support with the housework and caring for her children, Stella was confident her life plans were achievable.
Life Put On Hold
However, in late 2017, these plans came to a halt when Stella and her family learnt that her mother-in-law, Madam Leung, had dementia.
Before the diagnosis, the family couldn't figure out what was causing Madam Leung's odd behaviour and tantrums over the past few years. According to Stella, the tell-tale signs of dementia were all there but it just didn't click back then. 
They finally understood what was the reason after a visit to the polyclinic was, when the doctors suggested the possibility of her having dementia. 
The diagnosis was confirmed six months later — Madam Leung has dementia and depression.
Navigating Their Future
In the earlier stage of Madam Leung's dementia, the older lady could still cope with household chores. However, as Madam Leung's condition deteriorated, so did her motor skills and physical strength.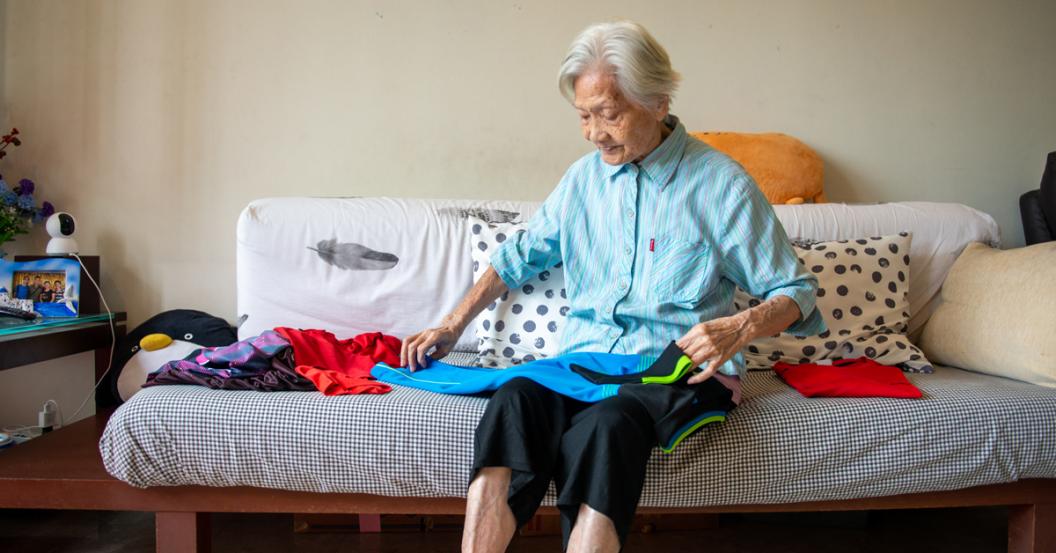 For Stella, it wasn't easy assigning tasks to her mother-in-law at first. She had to carefully consider and weigh their implications — it needed to occupy the older lady enough such that she wouldn't lose her physical abilities, but it also could not be too "tough". 
She recalled a time when her mother-in-law had tried to feed their cat laundry powder, and another instance when she would use hand soap to wash the dishes. Stella knew those incidents weren't intentional, so she focused on monitoring Mdm Leung's movements around the house to avoid any mishaps. 
Stella felt lost and uncertain, and inevitably doubted her competency as a caregiver to her mother-in-law. Furthermore, she knew that her mother-in-law's condition could only get worse. 
"I could feel myself going crazy," Stella said in reflection. 
Light at the End of the Tunnel
After Madam Leung was diagnosed with depression, the polyclinic introduced Stella and her family to Fei Yue, a social service organisation that provides services for all ages via community outreach efforts.
Madam Leung received support from Fei Yue's Community Intervention Team (COMIT), an allied health-led team that provides rehabilitation, counselling and case management for clients with mental health needs and caregiver support. As Mdm Leung's condition was better managed, Fei Yue's Community Outreach Team (CREST) took over the follow-up to monitor her well-being.
With the help of both COMIT and CREST, Stella received caregiver support, and emotional and social education. This was how she's able to better understand her mother-in-law's condition and manage it. 
Additionally, being an active and sociable person herself, Stella makes sure to have a life outside of caregiving. She establishes this by picking up hobbies and surrounding herself with family and friends who would lend her a listening ear. 
Now, Stella attends a watercolour painting course online, plays table tennis on weekends, and takes on photography jobs as a source of passive income. 

Apart from that, Stella counts her lucky stars for the solid support she gets from her family. Her daughter and son would take turns taking care for Madam Leung during the weekends or on days Stella has other appointments. 
"Family is important, but you need to also focus your energy on other things in life as well. My self-care is also very important," Stella says. 
Learn more about the Community Outreach Teams (CREST) and Community Intervention Teams (COMIT).