As a first-time caregiver for your elderly loved one at home, you may have questions on how to better care for his or her daily needs. From giving medication and preparing healthy meals to helping the senior move around the home, there are skills and techniques that may be new to you.
The ABCs of Caregiving Course is a new course that offers you or your Foreign Domestic Worker (FDW) the essential skills to care for your loved ones' daily needs. The course is also catered to the senior's ability to move around.
Here are more details on The ABCs of Caregiving course:
Learn Basic Caregiving Skills
The first part of the course prepares you with basic skills and techniques needed to look after your senior loved one's care needs, such as: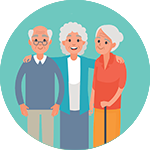 Understanding the physical changes as we age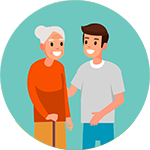 Learning how to communicate with your elderly loved one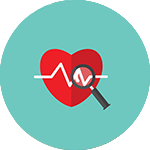 Monitoring temperature, blood pressure and pulse rate (vital signs)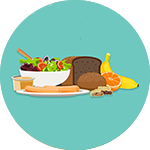 Understanding different types of healthy diets for proper nutrition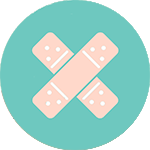 Handling simple wound care, skincare and practising good hygiene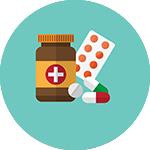 Reading labels on medication and giving oral medication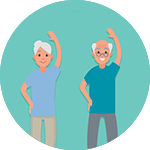 Assisting with simple exercises for seniors

 
Catered to Seniors' Ability to Move Around
The second part of the course trains you to help in your loved one's daily tasks, such as going to the toilet or showering. The course is broken down into three sets to cater to different physical or mobility conditions:
Set A (Ambulant)

Set B (Bedbound)

Set C (WheelChair)

Senior can move around on his or her own or with the help of a walking aid
Senior is limited to his or her bed
Senior moves around in a wheelchair
Caregivers Will Learn How To:
Provide Assistance in Toileting
• Look out for any abnormalities in urine and stool
• Use of bedpan, urinal and diaper changing
• Use of commode and diaper changing
Manage Personal Hygiene
• Assist in showering
• Assist in showering or bed bath
• Assist in showering
Support Seniors to Move Around
• Use of walking sticks or walking frame
• How to prevent falls
• Ways to turn and position the senior around in bed regularly
• Manage pressure injuries
• Use of Wheelchair
Home-based or Classroom-based Training
Caregivers can take the course at home or in a classroom.
At your home, the training will cater to your home set-up, and a session could range from three to four hours. The course is available in various languages such as English, Mandarin, Malay, Tamil, Bahasa Indonesia, and Burmese, depending on the trainers' availability.
Classroom-based training sessions are about seven hours long, and will include demonstrations so that you can understand the different techniques and skills better.
Additional Skills Training Electives (Optional)
If your loved one needs specialised care, you can upgrade your course with further training, which takes up to one hour for each skill. These specific skills include:
Urinary Catheter Care
Stoma Care
Bed Bath
Transferring, moving and providing support for seniors in a wheelchair
These electives are available only for home-based sessions and cost an additional $30 1 each. This is a special price, only valid within six months for those who completed the new caregiving course. You can request for the additional training to be conducted separately from the Set, but bear in mind to do so within six months to enjoy the exclusive price.
1 Do note that additional surcharges may apply to cover the transportation fees of trainers, if the electives are not conducted in the same session of the Set.
If your loved one moves around at home using a walking aid, but uses a wheelchair when going out, you may wish to consider Set A, and top up with an additional skill training in how to transfer and provide support for seniors in wheelchairs.
How to Apply and Tap on the Grants
It's easy to sign up for the new ABCs of Caregiving Course.
Choose a set and indicate if you wish to add on any special skills training electives.
Download this list of training providers to find out more about the course details (eg. course fees and duration).
Contact your preferred training provider directly to schedule a training slot.
You can use the Caregivers Training Grant to subsidise up to $200 of the course fees a year. Just inform the training provider, and they will help you apply for the grant.
You can view other training courses on our Training Calendar.