Whipping up a tasty and healthy meal doesn't always mean making a  mess in the kitchen.  
That's exactly the type of recipe we're sharing with you today — Prawn Pasta! A dish simple enough for a busy day, this delicious Prawn Pasta brings out all the right flavours with a little seasoning.   
So, let's get to it! 
P.S. For those of you who are allergic to prawn, consider alternative proteins like chicken or salmon.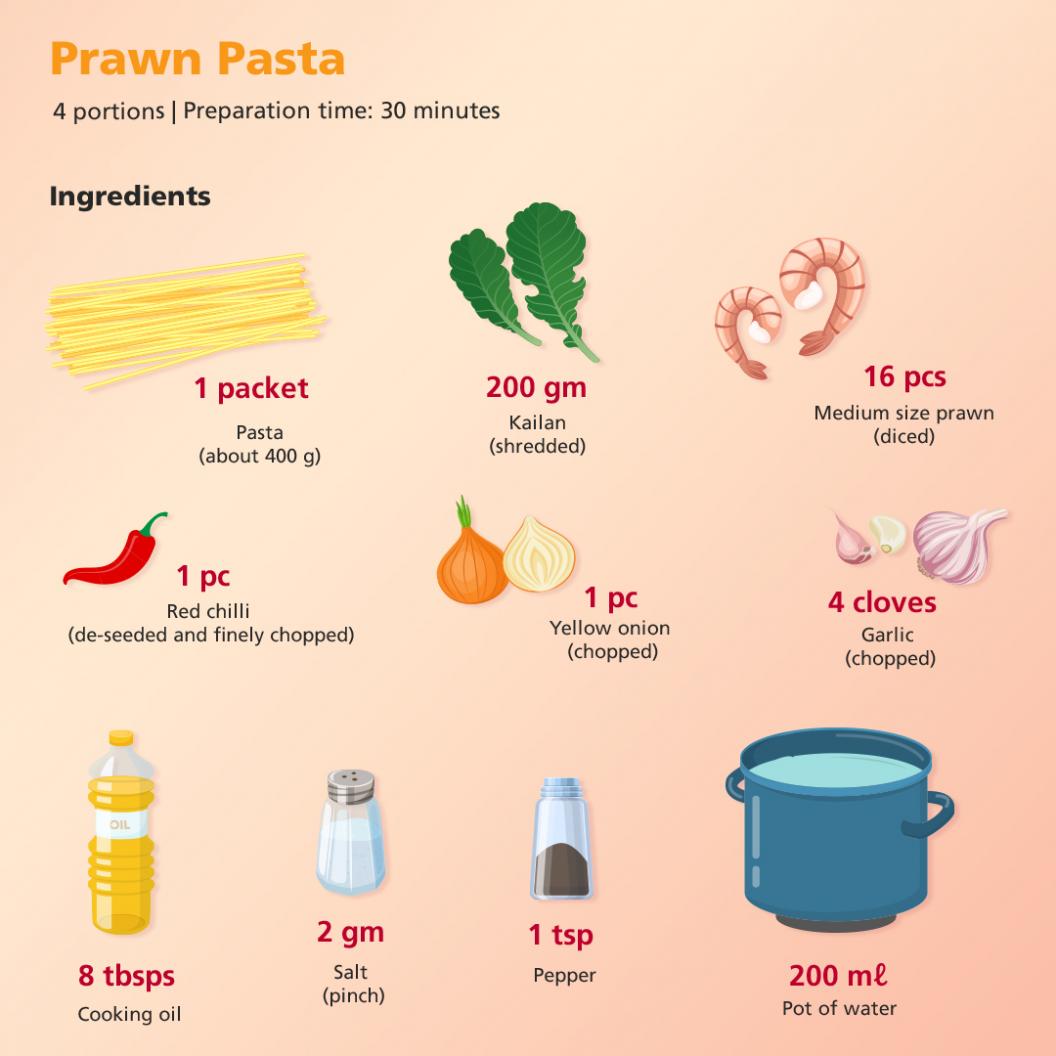 Ingredients
1 Packet of Pasta (about 400g)
200gm of Kailan (shredded)
16 Pieces of Medium-sized Prawns (diced)
1 Piece of Red Chilli (de-seeded and finely chopped)
1 Piece of Yellow Onion (chopped)
4 Cloves of Garlic (chopped)
8 Tablespoons of Cooking Oil
2gm of Salt (pinch)
1 Teaspoon of Pepper
200ml of Water
Let's Start Making Prawn Pasta
Step 1 - Bring a large pot of water to boil and cook pasta according to instructions on the package. Do not discard pasta water afterwards. 
Step 2 - Heat cooking oil in a large frying pan. Add chopped garlic and onions, and stir fry until fragrant.
Step 3 - Add shredded kailan, chilli, and prawns. Stir fry for two to three minutes until the prawns are cooked. 
Step 4 - Add the cooked pasta to the pan. Mix well with salt and pepper.
Step 5 - Moisten pasta with pasta water from Step 1 if it gets too dry. Serve hot. 
Nutritional Values of Prawn Pasta
Energy: 460kcal
Protein: 27g
Total Fat: 17g
Saturated Fat: 7g
Cholesterol: 119mg
Carbohydrate: 48g
Dietary Fibre: 5g
Sodium: 491mg
Folate: 15µg
Calcium: 181mg
Iron: 2mg