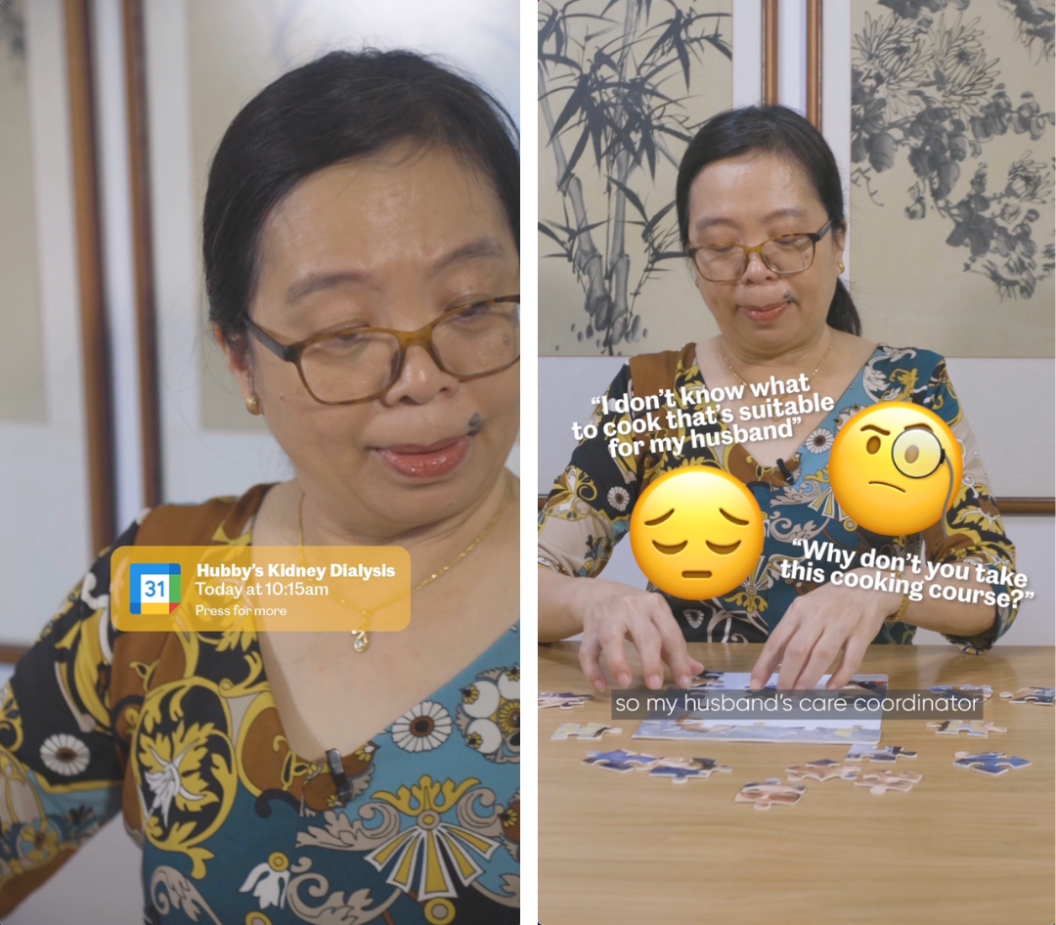 Most couples who have been married for a long time often settle into a familiar groove: You've figured out your priorities in life, understand how each other thinks, and know each other's likes and dislikes — you finish each other's sentences, even. If you're lucky, this comfortable and loving familiarity will see you through long after the children have grown up and you've retired. 
With two children who are already adults, Sharon, 60, and her husband were looking forward to having more time to themselves to travel, go shopping and enjoy each other's company. 
But sometimes, life throws a curveball: Her husband was diagnosed with kidney cancer in 2019.
 
"He was tired all the time and had frequent acid reflux," Sharon recalls, so they consulted a doctor who proposed an endoscopy, followed by an ultrasound. "Results showed that his kidneys were huge. Normal kidneys weigh 300 to 400 grams; his weighed two kilograms." Subsequent lab tests and a CT scan showed that her husband has kidney cancer and was already at stage 3. 
"When we learned that he had cancer, I cried so hard outside the clinic, and my husband had to console me," she recalls. After the initial shock, Sharon and the rest of the family rallied around her husband. "We're lucky that the cancer hasn't spread," she says. "I kept telling him that we must be grateful." 

The many facets to caregiving
Taking care of her husband became a priority for Sharon. She became his primary caregiver. Not only did she have to think of his physical well-being, she needed to be strong for his emotional and psychological struggles. 


Sharon's husband took the diagnosis hard. He brooded about his situation — became moody and depressed, according to Sharon. "He would have a hard time sleeping, and so would walk around the neighbourhood at night," she says. As the primary caregiver, it was up to Sharon to remain optimistic — be the cheerleader, as it were, even though it hasn't been easy. 
"I would try to be encouraging, but he'd tell me I didn't understand what he was going through because I wasn't the patient. I may not be the patient, but I am trying to understand. I would always try to encourage him and support him in whatever he is going through." 

Still, Sharon reflects that they're luckier than most. "We both still work from home two days a week, and his company has been very accommodating. He leaves early on days he needs to be on dialysis. And if there's nothing urgent for him at the office, he works from home." 
"Fortunately, he is still able to take care of himself, so on days when I am busy, he would go to his dialysis sessions on his own. But I do make sure I am there to pick him up." 
Apart from making sure he goes to his medical appointments and twice-weekly dialysis sessions, Sharon ensures he is on the right diet. "I'm very concerned about his food intake. Right now, his kidney still has residual use, and I want to protect that as much as possible, so I'm very strict about his diet." 
Having no prior knowledge on the right foods to prepare for him, Sharon had to learn on the fly. "His doctor gave a list of foods he could and couldn't eat. I found it difficult to cook his meals. Thankfully, a care coordinator at the dialysis centre mentioned that she was teaching a one-day cooking course at the National University Hospital."
Sharon used AIC's Caregivers Training Grant to sign up for the course, and only paid $10 for it. "The course was quite informative. I learnt what foods to cook for him, and the kind of portions to prepare. I asked a lot of questions during the course."
Armed with what she has learned, Sharon modified her cooking to suit her husband's needs. This means no salt, no soy sauce, no oyster sauce — basically, all the ingredients that flavour the food — among others. "He complains that the food is so bland, but he is very disciplined about it."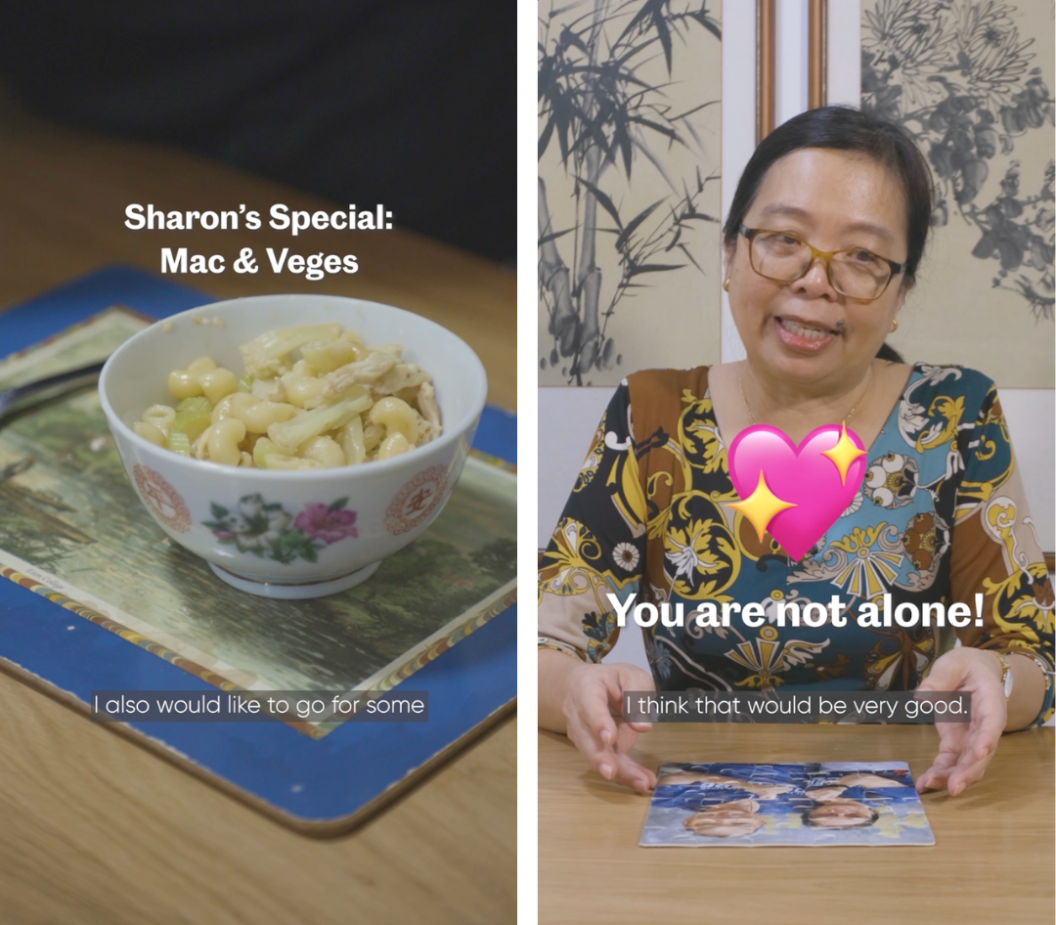 Taking it one day at a time
Being a caregiver for someone with cancer isn't easy, but Sharon is determined to retain some normalcy in their lives. In fact, the illness has brought them closer. "We appreciate the time we spend together," she says. "Our focus has always been the children, especially when they were young. Now, we don't really worry about the kids anymore. We take every opportunity to enjoy ourselves when we're off from work. We go shopping, go to the Botanic Gardens, or have brunch." 
They've even made plans to go travelling, something that her husband loves to do — with limitations, of course. "We need to plan it around his dialysis schedule. But we can go to Johor Bahru or Malacca." 
While taking care of her husband, Sharon has discovered a wellspring of optimism, toughness and happiness within herself. "This situation is quite tough. I learned never to give up — but I also learned to appreciate life more, and the time we have together. I learned to appreciate our family even more. For example, the children have been very supportive. My daughter would be the one to ask the doctor many questions, while my son would drive us around. It's the little things like these that make me happy."